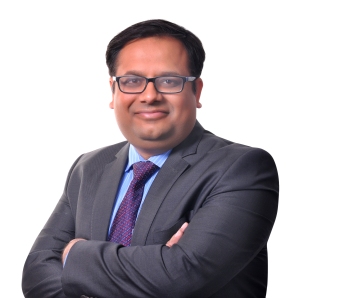 Keeping knowledge and information safe is more important than ever. The way our security industry works has changed significantly over the last decade. However, as the market evolves and the threat becomes more complicated, the need for 100% security should be ensured. Though, the demand and growth is expected in the near future with Indian government initiative of Smart Cities and tech enabled infrastructure. Rapid innovations in the security space offer everyone access to keep their environs safe and secure.  Mr. Abhishek Kumar, Regional Director, South Asia, Oncam shars his insights on surveillance industry in India and Oncam solutions for this industry. Oncam is a global technology company that delivers effective and intelligent video and video-based analytic and business intelligence solutions for our global customers.
The present-day scenario of Surveillance industry in India
The ever-increasing the business growth, compounded by increasing competition, have directly increased the demand for surveillance devices in India. The surveillance industry has grown beyond $841 million in terms of market size and is currently experiencing an exceptional growth of 27.16 percent CAGR (compounded annual growth rate). However, the analog-based surveillance systems dominate the market landscape at present and occupy about 68 percent of the same. Given the rising demand and rudimentary nature of solutions being employed, massive growth avenues for technologically-evolved IP surveillance systems have opened up. Buoyed by a number of other factors such as increased awareness among businesses about advanced surveillance, video analytics, and business intelligence, the current market size is expected to grow to $2.4 billion by 2020.
Smart city project in India
Advertisement

Through our Smart Cities Projects, Oncam aims to strengthen the security and surveillance framework in Indian cities by establishing state-of-the-art devices to bolster the public surveillance framework of these places. Oncam's product innovations and acquired global expertise are, at present, being leveraged across various tier II cities such as Surat. Other cities, including Faridabad and Nagpur, are also opting for our 360-degree solutions and their deployment is in the pipeline. The success of Oncam in ensuring comprehensive, city-wide security is largely because of the decreased deployment costs as our products facilitate comprehensive surveillance with a single camera besides other advantages such as lean, robust, and easily manageable infrastructure and lower operational expenses.
How surveillance can help Swatchh Bharat Abhiyan
Our video analytics-driven widespread surveillance solutions provide the ideal security framework for a mission as wide in its scope and implementation as Swatchh Bharat Abhiyaan. Our surveillance solutions can easily monitor the cleanliness standards of a city with absolute precision 24X7. By recording and notifying problems such as garbage accumulation to the concerned department on a real-time basis, Oncam makes proactive implementation of cleanliness drives possible. Additionally, Oncam's solutions can also be used to monitor the operations of waste disposal in the city and the state of its dumping grounds, which are known to frequently catch fire and contribute to air pollution, besides other health hazards.
Key industries which are part of the security system
Surveillance systems collectively represent a gamut of industries such as video capturing devices, recording devices, remote units, RFIDs, networking devices, IT systems, and so on. This mandates the involvement of system integrators belonging to all of the relevant industries.
The key challenges for installing Security Systems in the hospitality setups?
Establishing security and surveillance infrastructure for businesses catering to the hospitality sector and dedicated zones is more challenging than it seems to be. Constant monitoring is a major problem, as continuous surveillance via video feeds from specific locations, including entrances, parking lot, utility areas, lobby, kitchen, hall, and so on, need to be continuously observed for effective security. However, since such operations are managed by security personnel, this leaves a large room for errors, including resource unavailability, human errors, and gross negligence. This can cause a significant dent on the overall security framework of hospitality businesses.
The number of devices required, moreover, considerably contributes to the deployment and operational expenses. CCTV cameras have a restricted field of view and covering even a single section of a large cafeteria or a parking lot can require up to 3 to 4 CCTV cameras. Even such measures prove incomplete as the CCTV cameras leave multiple blind spots, making it necessary for security personnel to constantly be on alert and zoom, pan, or tilt the camera to obtain the desired view. If security personnel are missing, such footages cannot be obtained from a recorded feed, making hospitality businesses unable to conduct retrospective analysis for issues such as security breach, theft, vandalism, and unauthorized access for insurance claims.
Oncam was developed keeping mind these, and other such limitations. We address all such challenges in addition to providing hospitality businesses value-added services using our 360-degree, IP-driven surveillance solutions. Our solutions additionally come powered by video analytics capabilities that eliminate the possibility of operator malfunctioning.
of current channel Partners and expansion plan
We work with 10 to 12 partners in each region. Overall we work with 40-45 partners in India. For smart city project we work with leading national system integrators.
We have already expanded our operations from our head office in Delhi, and now have a presence in Mumbai and Bangalore. We will continue to expand through organic growth and by partnering with innovative technology companies.
Key Competitors and Oncam's strategy to compete with them
There are about 5-6 key competitors that cater to the surveillance market. But dissimilar areas of expertise leave little room for one-on-one competition. Our specialization in 360-degree solutions and video analytics in addition to a number of successful deployments keep us ahead of the curve while considering the market competition. Oncam's solutions cover a wide array of innovative offerings including indoor, outdoor, concealed, panel-mounted, night vision and other specialized security devices, and product enhancement through our in-house R&D initiatives is a continuous endeavour at Oncam along with a hands-on after-sales service, which helps us further consolidate our market position. By focusing on technological evolution rather than relying on resources with limited ability, Oncam's products have undoubtedly established their technological superiority and utility in the market.
Roadmap of Oncam for next 2 years
Right now, we are diversifying our product portfolio and are developing 180-degree solutions to further strengthen and effectively secure indoor and outdoor tri-junction areas. We are also expanding our service footprint by initiating new channel partnerships across the Indian subcontinent.
Our primary focus is on key growth regions such as urban centres and high-growth tier-II/tier-III cities, in addition to the ambitious Smart Cities Mission. We are also intensifying our B2B collaborations for improved security deployments in MNCs and large organisations.