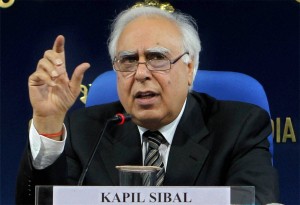 From an interview of Sh. Kapil Sibal, Union minister for Communication & IT, an overview of steps taken by the government for creating an eco-system for promoting Electronics & IT hardware manufacturing in India, is as follows:
Outlook of Indian Electronics Manufacturing Industry:
Advertisement

Electronics System design & Manufacturing is a upcoming sector of Indian economy driven by factors like, growing demands of Electronics hardware and our core competencies in Semiconductor chip designing. A $400 billion opportunity is expected by 2020 in Indian electronics industry, mainly influenced by growing consumption of semiconductors in India at a growth rate of 7.8% over 2010 and expected to grow to $ 9.66 billion by 2015. In this changing industry scenario, the role of government will be to make favorable policies for attracting investors, providing incentives to promote manufacturing setups in the country and connect with Indian engineers. Its high time, India needs to focus on electronics hardware manufacturing upto chip levels to the growing security concerns and threats to ICT dependent business processes. Visits are being done by the government of India and state government professionals to promote business witrh many countries like, silicon Valley, California, USA, Japan, Isreal and many more in future.
Rs. 52,000 CRORE INVESTMENT FOR TWO CHIP MAKING FACILITIES IN INDIA
Government has recently issued 'in-principal approval' for setting up two chip making facilities which will bring in fresh investments of over Rs 52,000 crore. The much awaited decision to allow setting up of semiconductor wafer fabrication manufacturing facilities would reduce imports through which 80 percent of domestic requirement is met.
The government has accorded in-principal approval to two consortia, (i) Jaiprakash Associates Ltd, IBM (USA), Tower Jazz (Isreal) (ii) HSMC Technologies India Pvt. Ltd. STMicroelectronics (France/Italy), Siltera (Malaysia).
The move will reduce outflow of foreign exchange as it will help cut down on imports, thus strengthening the Indian economy as well as the rupee situation.
The cabinet also approved that incentives that will be made available to the above consortia, will also be extended to other players who also show interest in setting up of similar semiconductor plants. It has opened p a business opportunity for the entire industry.
INCENTIVES FOR ELECTRONICS MANUFACTURING
100% FDI through automatic route
25% capital subsidy under MSIPs (20% for SEZs)
2 to 5% benefit for export under FPS
75% – 100% skill development assistance for sector skill certified frames/NIELIT for training of courses in Electronics.
Preference to domestic manufacturing in Government procurement.
VAT reimbursement up to 100% investment in states like Andhra Pradesh and Karnataka
Relaxed labour laws as prevalent in IT industry in some states
Ready land in Hyderabad, Hosur, Bhiwadi, Bhopal, Jabalpur and Kochi EMCs.
SAMSUNG GETS APPROVAL FOR INVESTING RS 406 CRORE UNDER MSIPS
Samsung India Electronics Pvt. Ltd. has been recently given approval for investment of Rs. 406 crore under MSIPS. Samsung presently has its unit in Noida, manufacturing mobile phones, color TVs, Refrigerators, washing machines and split Acess. The proposal under MSIPS is to modernize and increase the capacity of its noida plant from 33 milion units of mobile phones to 48 milions units per annum. The investment will be majorly in setting up of 8 SMD lines, 7 PBA lines and 6 main production lines. With the proposed investment and modernization, 40% production of smart phones is expected to be done in India by 2013, which was only 10% in 2011. Samsung will get 25% subsidy on its investment under MSIPS.
BOSCH GETS 436 CRORE INVESTMENT APPROVAL UNDER MSIPS
Bosch Automotive Electronics India Pvt. Ltd. Is the first applicant approved under the most coveted scheme of DeitY for bringing first investments in the electronics manufacturing segment in India. A proposal from Bosch Group Company having its plant at Bangalore and promoted by Robert Bosch Investment Nederland BV has been approved for a fresh investment of Rs. 556 crore under MSIPS scheme. The investment includes capacity expansion of existing plant and installing new production facilities for manufacturing of ECU engine system and body computer module.
The investment will be in nine surface mount technology lines and 16 final assemble lines in a duration of three years i.e. 2013-16 Bosch will get 25% subsidy on the fresh investment as the unit is in non-SEZ area. Additional investment of Rs. 120 crore is under consideration. The estimated incentives for he entire project under MSIPS would be excess of Rs 190 crore including CVD/excise reimbursement on capital items.