Car accidents happen every day. In the United States, there are approximately 6 million car crashes each year ranging from minor fender benders to fatal accidents. Globally, 1.2 million people die every year as a result of roadway collisions.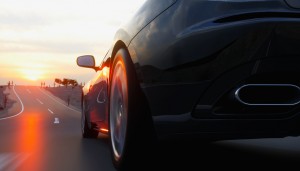 In just about all of the accidents that occur in the U.S. and abroad, however, there is someone actually operating the motor vehicle. In 2018, that's not exactly the case.
According to the BBC, both Tesla and General Motors are facing harsh criticism and following crashes involving self-driving vehicles.
In California, two vehicles that were operating in self-drive mode — a GM Chevy Bolt and a Tesla Model S — were involved in separate roadway crashes.
The Tesla Model S crashed into the back of a Culver City fire truck parked on the side of the road near a separate accident.
The Culver City Firefighters reports that the Model S was traveling at 65mph at the time of the crash and that "Amazingly, there were no injuries."
The U.S. National Transportation Board (NTSB) is currently investing the Tesla incident.
The Los Angeles Times reports that the Tesla rider was inside the vehicle while it was on Autopilot mode at the time of the crash. Back in 2016, Tesla's Autopilot system was a contributing factor in a fatal car accident in Florida. Another Model S rider was operating the vehicle in Autopilot mode, and was driven directly into a semi-trailer after crossing a divided road that the system's sensors failed to detect.
"[Tesla's Autopilot] is intended for use only with a fully attentive driver," a Tesla official said in a statement.
The General Motors collision involved its own autopilot system when the vehicle collided with a motorcycle in San Francisco.
Last year, GM began equipping some of its vehicles with the Super Cruise system, allowing for hands-free driving on the highway with a small camera monitor on the steering wheel to identify whether or not the driver is paying attention. Only a select few GM models carry that system, however.
The rider in the Chevy bolt says that the vehicle was in GM's Cruise Automation mode and caused him serious injuries, resulting in him filing a lawsuit against General Motors. GM, however, has alleged that the motorcyclist was at fault for the December crash.
"Safety is our primary focus when it comes to developing and testing our self-driving technology," a spokesperson for GM said. "In this matter, the San Francisco Police Department (SFPD) collision report stated that the motorcyclist merged into our lane before it was safe to do so."
The official crash report stated that the Chevy Bolt was traveling at 12mph during the accident, while the motorcycle (driven by Oscar Nilsson) was going 17 mph.
Additionally, GM recently announced that it plans on deploying test vehicles within the next year with no pedals or steering wheel.