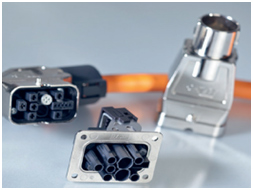 TE Connectivity (TE) introduces a hybrid connectivity solution for decentralized motors with two fast Ethernet cores, signal and power transmission. Decentralized servo motors are widely used in many industries and are typically connected via a deterministic system and power-fed by a separate cable.
Recently, motors are becoming increasingly networked via fast Ethernet, which offers the benefits of real-time control. However, this does not solve the nuisance of having dual cabling for signal and power.
TE Connectivity offers the Motorman hybrid connector, which integrates communication, signal and power transmission of locally controlled motors within a compact rectangular connector. Two fast Ethernet sockets offer the full benefits of real-time automation control, while reducing cabling complexity.
TE now also offers a Shroud version which includes a secondary locking to secure the product, and also makes the cable crimped version available for cabinet applications.
Heilind Asia also can give the service and support for all customers. Heilind Asia supports both original equipment and contract manufacturers in all market segments of the electronics industry, stocking products from the industry's leading manufacturers in 25 component categories, with a particular focus on interconnect and electromechanical products.