The low cost CycloneV SoC starter kit from EBV enables the evaluation and development of Altera SoC devices.
The EBV Socrates Starter Kit provides a full system development environment for software and hardware engineers to 'Launch' their projects.
It provides access to many peripherals including 32-bit DDR3 Memory, Ethernet, USB, GPIO, CMOS sensor boards and a TFT display.
EBV Socrates is supported by the ARM and Altera development environment
More information: www.ebv.com/socrates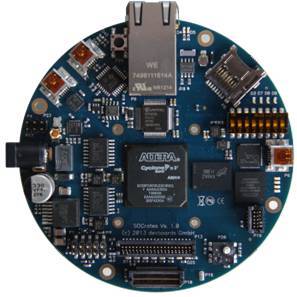 SoCrates Block Diagram
EBV Socrates Key Features
Altera Cyclone V SoC device

5CSEBA6U23C7N
110 K LEs
112 DSP Blocks
5.4 Mbit RAM
HPS

Interfaces

1Gbit Ethernet
USB 2.0 OTG
CAN
SPI
I²C
UART-USB Converter
3.3V GPIOs (62)
User LEDs (8+3)
DIP-Switches (8)
Navigationkey
LVDS connector for e.g. CMOS-Sensor
LCD TFT interface
Embedded USB Blaster II

Memory

128Mx32 DDR3 Memory
μSD Card Slot
2x EPCQ256 Configuration Device

Real-Time Clock
Temperature Sensor
Clocking

25MHz Crystal
MMCX connector for external Clock Source
programmable Clock buffer

Power

DC input 12 – 24V adapter

Board Dimension 100mm Diameter
Application examples
Embedded Control
Image Processing
Industrial Automation
Human Machine Interfacing
Programmable Logic Controllers