SMTA China held its annual awards presentation at the SMTA China Annual Award Ceremony, which took place on Tuesday, August 26, 2014 at the Shenzhen Convention & Exhibition Center.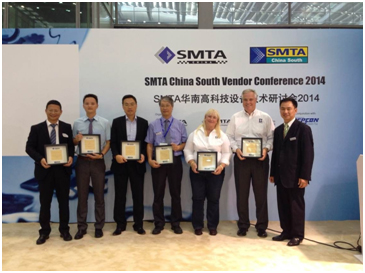 Alex Choi, Vice President of Shenzhen Kaifa Technology Co. Ltd. was named Officer of the Year. Alex has provided a great support for the SMTA China conferences for years, he is one of the pioneer of the annual golf tournament of SMTA Hong Kong Chapter.  He has served SMTA Hong Kong Chapter Board and Executive Committee since 2004, and past President of the Chapter.
Billy Shen, Application Technology Engineer of ZESTRON Asia Pacific. was awarded Individual Member of the Year. Billy has been a very active member and provided a full support to the vendor conference of SMTA China for years.
Megan Wendling, President of MW Associate, was named Councilor of the Year. Megan has provided much support over the years to all events including conferences for SMTA China and has solicited sponsors to SMTA China.
Kyzen Corporation was named Member Sponsor of the Year. Kyzen has joined SMTA as International Corporate Member for 21 years and provided a great sponsorship to SMTA China and events including conferences, golf tournament, with many complimentary supports in teaching and organization for the conferences and training of SMTA China for many years.
Reed Exhibitions (China) Ltd., Shanghai Branch was awarded Partner Sponsor of the Year. Reed Exhibitions has sponsored SMTA China Conferences and Meetings in conjunction with the NEPCON shows at Shanghai and Shenzhen for years. Reed is one of the premium sponsors of SMTA China to date.
SMT China Magazine was named Media Sponsor of the Year.  SMT China Magazine has provided a big support in the SMTA China Conference Program and promote the technology conferences, vendor conferences, training courses, annual breakfast Reception and Annual Dinner as well as annual golf tournament sponsorship with the show daily publications
For more information about the SMTA China, contact Ms. Peggy Chen at +86-21-56093010; E-mail: peggychen@smta.org.cn