CALL FOR PARTICIPATION
RS India DesignSpark PCB Contest 2014
Registrations Open! Last Date – Aug 15, 2014
Contest Website – www.bit.ly/dspcbcontest
RS India is happy to announce first edition of RS India DesignSpark PCB Contest 2014. Contest aims to promote schematic & layout using DesignSpark PCB. Contest is open to students, electronics professionals, and hobbyists from India who are interested in electronic design. There is no registration fee for participation but prior registration is mandatory! Last date for registration is Aug 15, 2014. Visit Contest Website for registration details.
Register for the contest. Carry out innovative Electronic Design using DesignSpark PCB. Win Cash Prizes & other Attractive Rewards.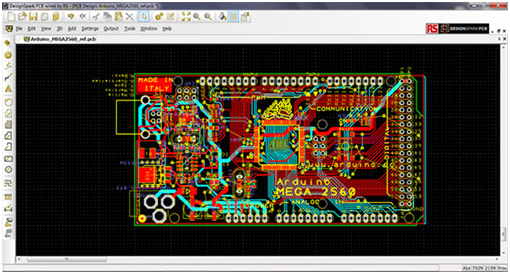 About the Contest
Participants are expected to carry out schematic & layout design of any electronic circuit (project) of their choice using DesignSpark PCB software. Participants must submit the following online on DesignSpark.com before September 15, 2014
Brief write-up about their electronic circuit (project)
Schematic design created using DesignSpark PCB
PCB layout design created using DesignSpark PCB
Bill of Material of the electronic circuit (project)
For complete guidelines/rules for participation visit www.bit.ly/dspcbcontest
Awards & Results
Submissions will be evaluated by team of judges comprising of industry professionals. Results will be announced on September 25, 2014.
Top three designs will be awarded cash prizes.

First Prize – INR25,000
Second Prize – INR15,000
Third Prize – INR 10,000

Attractive Discounts on purchasing from RS Components to all participants who complete their designs (on first purchase only)
Participation Certificate to all Participants who complete their designs.
Citation on DesignSpark.com. DesignSpark.com has over 250,000 members registered worldwide. Your designs will be viewed by lacs of professional electronic designers WW.
Best Designs will feature in the weekly newsletter of DesignSpark.com
Terms & Conditions of the Contest:-
Read complete terms & conditions of the contest online on Contest Website.
 
Contact
If you have any doubts about the contest please write to us on
techmarketing@rs-components.co.in or call us on 0120-4519185
About DesignSpark PCB
DesignSpark PCB is a powerful, professional and completely free of charge schematic and layout design software sponsored by RS Components. It is absolutely free tool and yet it doesn't impose any restrictions on number of layers of PCB, number of schematic sheets in a design, size of PCB and number of components/pins etc. DesignSpark PCB is easy to learn and easy to use design tool, with intuitive user interface. Some of the distinguished features of DesignSpark PCB are Availability of reference designs, online library of components, simulation interface, Design Calculators, 3D Viewer & export etc. DesignSpark PCB has online video & text tutorials to help users Get Started and dedicated technical forum for technical clarifications. Visit www.designspark.com/pcb for more details.
About RS Components
RS Components is the world leading High Service Distributor of electronics, electrical & industrial products. Having present in 32 countries RS serves 2 million customers worldwide with 550,000 products from 2500 brands. RS Components India has been operational for over 20 years in the country. Visitwww.rsindia.comfor more details.