Leading brand 3D printing machines deliver extensive range of capabilities to meet needs of broad user base for rapid prototyping and product concept development

RS Components (RS), the global distributor of 5.5Lakh components from over 2500 leading brands, announced availability of four MakerBot 3D printing machines, which significantly augments the company's range of rapid-prototyping products for use by electronics and mechanical engineers involved in design, prototyping and research and development, in addition to enthusiasts and those in education.
Of the four products, three are 3D printers that are based upon the same core Fused Deposition Modelling (FDM) technology, including the very easy-to-use MakerBot Mini 3D printer and the MakerBot Z18 that offers a particularly large build volume.
The first of the products is the fifth-generation design of the MakerBot Replicator desktop 3D printer. Key specifications of the printer include a 100-micron (0.1mm) layer resolution and a build volume of 252 x 199 x 150mm, which is an 11% larger volume than the MakerBot Replicator 2 3D printer. Other features include an on-board camera and diagnostics and assisted build-plate levelling, as well as a swappable smart extruder, which minimises downtime by enabling the quick replacement of a worn extruder within minutes. The printer also offers a build platform made from glass, and USB, Wi-Fi and Ethernet connectivity. Material filament for the printer is MakerBot PLA.
The second 3D printer in the range is the MakerBot Replicator Mini, which is an easy-to-use and compact desktop machine that is ideal for use in the home or classroom. Like the Replicator, the Replicator Mini also has a swappable smart extruder, but offers a build volume of 100 x 100 x 125mm, layer resolution of 200-microns (0.2mm), and Wi-Fi and USB connectivity.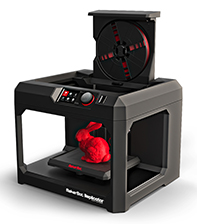 The third 3D printer in the series is the MakerBot Replicator Z18, which offers a massive build volume of 305 x 305 x 457mm. The printer integrates an enclosed and heated build chamber designed for printing large models with minimal curling. Like the Replicator, the Replicator Z18 includes a swappable smart extruder, on-board camera and diagnostics and assisted build-plate levelling, a 100-micron layer resolution, and Wi-Fi, USB and Ethernet connectivity.
The final product is the MakerBot Digitizer desktop 3D scanner, which provides users with a fast and easy way to create 3D models. The MakerBot MultiScan Technology allows users to scan objects from multiple angles and merge the resulting scans together to create the best possible 3D model. Outputting standard 3D file formats, users can further shape or transform objects in a third-party 3D modelling program. The scanner offers a scan volume of up to 203 x 203mm with a dimensional accuracy ±2.0mm and a resolution of 0.5mm. Offering an approximate scan time of 12 minutes, for each 3D model, the scan will create approximately 200,000 triangles – the number and size of which will generally determine the accuracy of the curved surfaces of an object.