Curved image sensor still in development, mimics human eye
Sony creates a revolutionary bending machine to curve it and after that they use ceramic to stabilize the sensor. Interesting: The sensor has the same level of curvature found in the human eye!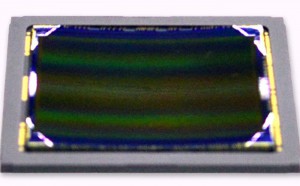 Sony has shown off a new style of camera sensor for the first time, one that has a curved surface. The unnamed curved CMOS sensor is said to offer a number of benefits when compared to normal, flat sensors used in modern cameras, with engineers claiming it to be 1.4 times more sensitive to light than flat equivalents at the center of the sensor, and twice as sensitive at the edges.
The curved sensor also helps simplify the way lenses work, reports IEEE Spectrum. The change in geometry allows it to work with a flatter lens and a larger aperture, allowing more light to reach the sensor, as well as potentially simplifying the lens manufacturing process. Bending the sensor to the shape also lowers the noise created by "dark current," power flowing through a pixel even when it does not receive any external light at all, improving the image quality further.
Extra steps are added to the manufacturing process to create the curved sensors. A machine is used to bend the sensor surface, while a ceramic material is set behind it to retain its shape, and though the amount of curvature has not been revealed, engineers claim it to be similar to that of part of the human eye.
Two sensor sizes have been created so far, with a 43mm (1.69 inches) version aimed at digital cameras, while an 11mm (0.43 inches) version could be used in small cameras or some photography-oriented smartphones. Though Sony has yet to reach the point of being able to place it into mass production, the team has managed to create approximately 100 sensors using its curving manufacturing technique so far, suggesting it could end up at retail sooner rather than later.