Optimized for Capacitive Touch Key Applications with LED and LCD Display
Expanding 16-Bit MCU Lineup Targeting Smart Home and Industrial Markets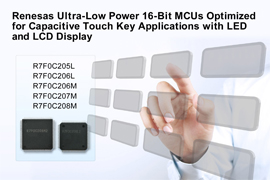 Bengaluru, India, November 14, 2017 — Renesas Electronics India Pvt. Ltd., a subsidiary of Renesas Electronics Singapore Pte. Ltd., today announced the expansion of the 16-bit microcontroller (MCU) lineup with the introduction of five new MCUs. The new MCUs, R7F0C205L, R7F0C206L, R7F0C206M, R7F0C207M and R7F0C208M, allow support for touch-based home appliance, building, industrial automation, and portable applications with LED and LCD display. The new MCUs allow embedded developers to incorporate both user interface, including capacitive touch key, and system control capabilities in a single MCU. The MCUs inherit the superlative features of the RL78 Family including industry-leading low levels of power consumption and remarkable electromagnetic compatibility (EMC) performance.
Developers working with capacitive touch-based applications can leverage Renesas' state-of-the-art capacitive touch technology in an ultra-low power, low-cost 16-bit MCU fabric. The MCUs also incorporate a high current port for direct light-emitting diode (LED) drive and a segment liquid-crystal display (LCD) driver, which optimize capacitive touch key applications with LED and LCD display. The new MCUs are Renesas' first 16-bit touch-based MCUs that achieve both LCD and LED direct drive support on a single chip. The MCUs will be delivered as solutions that includes MCU, workbench, and a graphical user interface (GUI) tool (the HMI Code Maker). Evaluation boards and evaluation kits will be additionally available.
Key features of the new capacitive-touch MCUs:
 Detect up to 64 keys with low capacitive touch key standby current and high current ports for LED direct drive capabilities
The new MCUs can support complex user interface requirements with support up to 64 keys. This reduces the wiring complexity when adding a touch panel and helps simplify the board design and the mutual key configuration enhances the water resistance. A capacitive touch key stand-by mode requires around 6 microampere (uA) only as average electric consumption, which enables capacitive touch capabilities for battery-operated and other portable devices with low power consumption requirements.
The MCUs' built-in high-current drive port can directly drive LEDs, which makes it suitable for most of LED displays and touch button control LED display applications. The MCUs also support different potential interfaces.
 Workbench, software, and application notes available to further reduce development time
By using the Workbench automatic calibration tool with Renesas' capacitive touch key MCUs, it is possible to use a graphical user interface (GUI) to easily and quickly adjust the sensitivity and other settings, which have been difficult to change depending on the board layout, tracing pattern, panel material and other factors. In conjunction with software and information needed for development, including application notes, user manuals, and reference software, Workbench upgrades will be available to enable immediate confirmation and evaluation of system operation when used with sample MCU and evaluation board. This contributes to reducing development time burden.
IEC61000-certified R7F0C208M-based evaluation kits for cap touch
In addition to the solution, three R7F0C208M-based evaluation kits for cap touch will become available that have obtained the IEC 61000-4-3 and IEC61000-4-6 certificates for noise immunity.