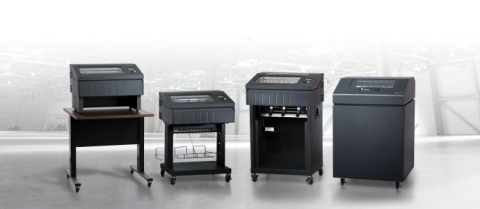 Printronix Inc., a worldwide leader in business-critical printing solutions, today gave IT buyers in Southeast Asia and Oceania markets yet another reason to select line matrix printing technology by introducing the P8000 Cartridge Printer series. With new flexible designs, adaptable functionality and manageable savings, the P8000 series proves again that line matrix is the most competitive technology for industrial environments. Line matrix is designed for users in manufacturing, distribution and logistics, government, and banking and who need to print invoices, shipment and transportation documentation, bank statements and product compliance labels. Users can expect maximum uptime, low total cost of ownership, a small footprint and reduced noise from the P8000.
"Our new P8000 Cartridge Printer series reflects the diverse global usage of line matrix technology today," said Mark Edwards, senior vice president, global sales and marketing, Printronix. "IT leaders will value this new series, whether they are replacing existing printers or embracing line matrix technology to reduce printing cost. Line matrix is still a mainstay solution, recognized as a flexible technology with improved user experience, local language functionality and operational efficiencies."
Line Matrix Technology Trumps Laser in Industrial Printing
Line matrix cartridge printers offer significant benefits over laser printers, realized through energy savings, lower cost per page, reliability in industrial environments and media flexibility spanning multipart forms, oversize media, peel-off labels and card stock. Every aspect of the line matrix printer is designed to deliver higher reliability, faster throughput and greater resistance to rough handling and hazardous environmental conditions. In addition to energy savings and substantially lower consumables cost, line matrix printers also have a much longer life cycle then laser printers.
"When you factor all these elements together, line matrix printers provide a substantially lower total cost of ownership over the life of the product," Edwards said. "That's why industry leading companies such as Aramark, BMW, General Motors and Nestle have replaced their laser printers with Printrnix's line matrix technology and continue to reap the benefits."
P8000 Cartridge Printer Packs Even Greater Punch
In a world of expensive-to-maintain laser printers, line matrix cartridge printing offers technologically superior relief. With the new P8000 series, Printronix pioneers innovations to make line matrix printing more competitive than ever:
Flexible Design. New modular enclosures improve reliability and occupy a smaller footprint. Keeping pace with today's technology is easy with new USB 2.0 connectivity, a larger LCD screen and intuitive menu navigation system included as standard features.
Adaptable Functionality. The P8000 series features a broader selection of models, with the introduction of a Tabletop Printer and updates to Printronix's other popular line matrix printers. Companies that require multiple-part forms will welcome PowerPrintT, a new feature, that delivers improved print quality with increased clarity and print darkness.
Manageable Savings. From its backward-compatible cartridge ribbon that reduces inventory management costs as well as ordering and installation confusion, to its remote diagnostics, the P8000 is a smart purchase. In addition, users save even more money through improved energy efficiency that lowers idle power consumption and boosts operating efficiency.
The new Printronix P8000 Cartridge Printer series will begin shipping immediately and is available for ordering today. The series is competitively priced, with tabletop, open pedestal and cabinet models. To view the complete series, go to www.printronix.com.