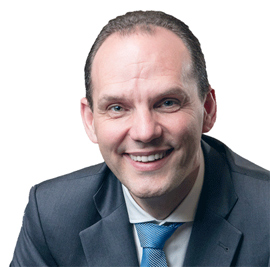 An interview with Ralf Buehler, SVP Sales & Marketing, Premier Farnell
Premier Farnell has been supporting customers for over 80 years, as Farnell element14 in Europe, Newark element14 in North America and element14 in Asia Pacific. Known for being a high service distributor, Premier Farnell also offers a broad range of design and manufacturing services to customers, supporting them beyond the shipping of the components they need.
Ralf Buehler tells us more.
Premier Farnell, is "the Development Distributor", what does "Development Distributor" mean?
Being "the Development Distributor" is about the support we offer to makers, teachers and students, all the way through to design and maintenance engineers, to help them develop themselves and others, their products and their businesses.
This may be shipping components, tools or maintenance supplies to them when they need them, it may be helping a teacher inspire their class to get into coding, or working with start-ups to help them design and develop their products. We have a team of 200 design engineers who work alongside our customers to help them create and optimise their designs for production and develop their businesses by launching their products through our established distribution channels. Our element14 community provides support to makers and design engineers alike by providing a forum for innovation and ideas for its half million membership.
What benefits does this create for your customers?
For many of our customers, being "the Development Distributor" means they can work with a lower number of suppliers, reducing hand-offs from company to company, ensuring consistency of knowledge throughout the design process and accelerating speed to market. Working with our customers throughout the design process means that we also have a head start on preparing the distribution channel for launch – when time to market is so important we believe this to be a distinct competitive advantage.
For others, being "the Development Distributor" is about working with a trusted partner – whatever you are doing. Many of our customers work within electronics by day and are makers by night – whatever the journey they are taking, Premier Farnell is able to support them at every stage. We've identified four key journeys that our customers take and focus our support around these:
Education & Maker is about inspiring the next generation of engineers. It's about major projects with big names such as the BBC and Microsoft to get kids into coding as well as inspiring the maker community by providing access to leading maker boards such as the Raspberry Pi and BeagleBone Black. We are the largest manufacturer and supplier of the Raspberry Pi, an official manufacturer for Beagleboard.org and exclusive manufacturer of the BBC Micro:bit – and in addition we develop and manufacture our own range of tools and accessories that help makers turn their dreams into reality, and support them through our element14 community.
Research & Design is about working with our customers at the earliest stage of product development to help them bring their ideas to market. We work with young start-ups and the largest manufacturers to design new products for their markets, drawing on the experience of our 200 in-house design engineers. Our strong track record is second to none – from a start-up home automation company in Finland, to NXP and Intel.
As a distributor, we provide access to the widest selection of components, boards, system level products and test equipment in the industry with breadth that provides complete design freedom to our customers. Our experience in product development means that whatever challenges arise in prototype and test we are agile enough and equipped to guide customers through it.
We help our customers develop their businesses every day by delivering the components they need to manufacture their products, automate industrial systems and keep their production lines maintained. We ship 19 million order lines every year – many with next day delivery, even more on same day despatch, keeping our promise to customers and helping them keep theirs.
Why should customers come to a distributor for design services and manufacturing?
Premier Farnell is more than a distributor. Our aim is to provide customers with innovative and efficient products and flawless services, providing added value to customers and suppliers alike. We are well known as a manufacturer of the Raspberry Pi, Beagleboard and BBC Micro:bit, and have extensive experience in the design and manufacture of accessories for Single Board Computers and all that comes with it – gaining relevant approvals and marketing devices through our established distribution channels.
Our manufacturing and design services offering provides market leading design and production services to our customers. We focus on ensuring that every design meets a strict design and manufacturability requirement and work to develop a board and bill of material optimisation which benefits all parties. Our services cover all aspects of design from PCB Layout to Box Build.
By providing a complete solution of services and using proven best-practice methodologies we can improve quality and time to market delivery of our customers' products. All services are completed with an understanding of customer's budgets and schedules, as well as an unrelenting commitment to customer satisfaction. Extending a manufacturing service to our customers means we can support them throughout the complete design and manufacturing cycle.
We believe we are uniquely able to support our customers at every stage, with the right knowledge, products and services as they learn, design, manufacture and maintain their products, providing true added value and competitive advantage to our customers. To find out more visit http://uk.farnell.com/your-development-distributor