Andy Gales, VP International Sales, Head of WW Sales Enablement at Vicor Corporation Ltd

Power distribution and management are crucial elements of many different electrical systems, from electric vehicles to data centers. When designing power systems, engineers need to optimize efficiency, minimize the space and keep costs down. These often competing requirements present significant challenges to power system designers.Additionally power engineers are faced with  shorter development timeframes than ever before and still must toil with changing system specifications throughout the project.

Andy Gales, Vice President of International Sales focused on India and South Africa and Head of WW Sales Enablement of Vicor Corporation Ltd spoke to Vaishali of Electronics Maker about power system design challenges in today's fast-paced economy.  Gales shared new insight on the difficulties that engineers face based on Vicor's recent study of 822 engineers.  Gales identifies predominant problems and explains how some designers are adapting to the challenges.
What is stressing power design engineers?
Time to market pressures- 80% of power engineers are already struggling to meet time constraints when designing power systems and 79% feel that project schedules are tighter due to time-to-market pressures. New specification changes exacerbate this pressure, and are among the most significant problems they face
Late-stage changes- The top power design challenges identified by engineers are downstream changes to the specifications after the design process has begun. According to research conducted by Vicor Corporation, 87% of power system designers around the world identified specification changes as the most frequent impediment in designing power systems.
The biggest problems of designing power systems (Source: Vicor Corporation, 2017)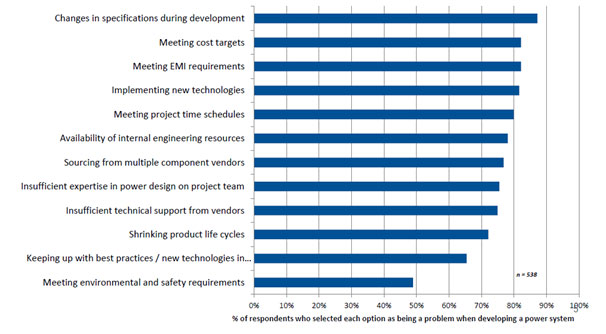 Adapting to today's business pressures and power design demands
A change to specifications after development has started is problem for designers and they feel it is getting worse. Conventional approaches to power system design, using discrete components, were developed when specifications were less fluid.  Discrete designlacks flexibility, which makes adapting to the changes difficult, time-consuming and expensive.
When creating power system designs, engineers need to consider more flexible approaches to contend with specification changes. For example, the Power Component Design Methodology enables engineers to easily swap out different components in their power design with minimal risk to project schedules.
Using modular power components offers greater flexibility over a discrete approach.  The modular approach makes modifications to power systems quick and easy, making it far more effective in today's unpredictable design environment. The Power Component Design Methodology is a proven, low-resource, low-risk approach to high-performance power Subsystem design. Unlike other approaches, the Power Component Design Methodology is a complete, holistic system that covers the entire power supply from power entry (source) to PoL
(point of load).
A modular approach is better for business
Vicor's Power Component Design Methodology enables power system designers to reap all of the benefits of modular power component design:
predictable component and system functionality
reliability
fast design cycles
easy system re-configurability-configurability and scaling
At the same time it delivers optimal system operating efficiency, power density and economy that rival the best alternative solutions. UsingVicor's online tools, power system designers select from an extensive portfolio of proven Vicor power components to architect, optimize and simulate their complete power system, all the way from their input sources to their points of load.
This innovative approach to power system design delivers fast time-to-market and state-of-the-art performance, while minimizing delays that so often occur with conventional or custom design methodologies.
Simplifying the Complexity of Power Design
Vicor's Power System Designer is online design tool that simplifies and accelerates the creation of complicated, multi-output, modular power systems from source to point of load. It embodies the Power Component Design Methodology and makes it easy for you to design your power systems.
The software simultaneously optimizes up to five designs on five critical figures of merit:
Maximum operating efficiency
Minimum component count
Minimum cost
Minimum footprint
Best fit
Each solution can be viewed, analyzed and optimized using Vicor's fully editable Whiteboard tool, enabling designers to meet the exacting performance requirements of their target application.
The Power System Designer tool displays a visual representation of the mechanical layout of the system and generates a complete Bill-of-Materials along with ordering and pricing information. The Power System Designer online design tool facilitates power system design by enabling specification, analysis and configuration of complete, multi-output, power systems, with unprecedented performance, efficiency and density, in just a matter of minutes.
Design a Complete Power Chain in Less than 90 seconds
Try the Power System Designer today.