Model: Genius SP-906BT / SP-906BT Plus Bluetooth Speaker
Genius,a leading global brand in personal peripheral devices for the digital world, announced India launch of its compact but powerful portable Bluetooth speakers.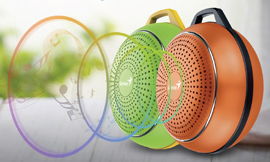 With built-in microphone: the SP-906BT and the SP-906BT Plus feature superb clear audio, stunning loudness and extra heavy bass which is smaller & lighter than a baseball. SP-906BT Series gives people on-the-go more than 10 hours of continuous playing, that's almost more than 200 songs, perfect for personal enjoyment, outdoor activities or hanging out with friends.The "Plus" edition leads the series' expansion option firstly with a 3.5mm line-in auxiliary port.
Exquisite Audio, Powerful Bass
Whether listening to music, audio books or phone calls, the Genius SP-906BTSeries delivers amazingly clear and loud sound. It perfectly fits different usage scenario; be it sports like jogging, rock-climbing, biking or hanging-out and partying with friends.
They Travel With you:
The Genius SP-906BT Series are portable and you can literally take it anywhere with you. Sometimes we need to keep our smart phones in our bag and can't hear incoming calls. With a professional mountain climbing class hook of SP-906BT,  users can just clip it in their belt or bag and instantly hear incoming alerts or play audio while they do their activities. Extreme sports enthusiast will love its rugged built and incredible endurance which is able to handle rough use.
Simple, Smart and Compact Design
The SP-906BT Series is designed to be compact, sporting a rounded shape and a relatively flat body gives it a slim profile so it fits in most pockets and bag without adding much bulge. The SP-906BT Plus also features metal body construction for extra durability and a unique touch of style with its sleek, metal polish.
Ease-of-use, Wired or Wireless Freedom
Have the freedom of using any audio source of your choice.SP-906BT Series can accept Bluetooth source.And with the SP-906BT Plus, you can also plug-in your  device with the built-in 3.5mm line-in port.
Availability

These trendy and must-have Genius Speakers are available on www.amazon.in
Although priced at Rs.3050, the amazing product is available at an introductory offer price of Rs.1699 only.