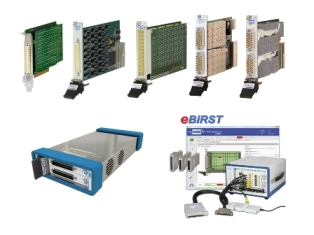 Clacton-on-Sea, 25th Dezember 2017 — Pickering Interfaces, a leading provider of signal switching and simulation used in automotive test and verification, in conjunction with their Indian partner, Vigven Tech Mark Pvt. Ltd, will be showcasing their broad catalog of PXI, PCI, USB and Ethernet LXI switching & connectivity solutions at the Automotive Testing Expo in Chennai, India (www.testing-expo.com/india/ta/), Stand: 2003 on Wednesday, 10th January to Friday, 12th January 2018. These products include Pickering's PXI Fault Insertion Switches, Power Switches and Programmable Resistors, as well as their 2-slot USB/LXI chassis'. Below are some of the products that will be on display:
PXI Fault Insertion Switching Solutions – The PXI Fault Insertion range (model 40-190B) is available with 74, 64 or 36 channels at 2 Amps and is primarily designed for the simulation of fault conditions in automotive and avionics applications involving the reliability testing of safety critical controllers. In addition, the PXI Fault Insertion range (model 40-199) is available with 10-channels of 10 Amp switching and fault insertion busses capable of handling 20 Amps.
PXI Power Switching Solutions – Used for automotive test applications, their 8X4 2-Pole PXI power matrix (model 40-550) is capable of switching 5 Amps at 150W/1250VA maximum power. In addition, their PXI Power EMR Module (model 40-161-101) features 12 SPDT relays that can switch up to 300VDC or 250VAC, or up to 16 Amps Maximum switch current.
PXI & PCI Programmable Resistor Solutions – PXI Programmable Resistor range (model 40-294, also available in PCI format) is a cost effective solution for simulating variable resistors. This range has 12 resistor options with resolutions of 0.25Ω to 2Ω and channel counts of two or four. Also featured in the booth will be the PCI High Density Programmable Resistor range (model 50-295, also available in PXI format) that offers up to 18 channels in a single slot.
2-slot USB/LXI Modular Chassis – This chassis (model 60-104) offers a small lightweight form factor, making it ideal for portable, benchtop and space restrictive applications. It supports one or two 3U Pickering PXI modules. The USB compatible and LXI compliant ports enable the chassis to be controlled directly through standard interfaces found on most personal computers—allowing for a very cost-effective route into the modular test and measurement market.
Also highlighted in the booth will be their new eBIRST Switching System Test Tools. These tools, designed specifically for Pickering's PXI, PCI, USB and LXI (Ethernet) products, simplify switching system fault-finding by quickly testing the system and graphically identifying the faulty relays.
Pickering Interfaces stands behind all of their manufactured products with a standard three-year warranty and guaranteed long-term product support. Pricing and availability information is supplied on their website at www.pickeringtest.com.