Low power, small size, and high performance enable widespread deployment of energy-conscious, space-constrained applications with BLE connectivity

Provides state-of-the-art security and is Bluetooth 5.0-certified to ensure interoperability with the latest mobiles and tablets

June 29, 2017 – The new-generation Bluetooth® Low Energy (BLE) System-on-Chip from STMicroelectronics (NYSE: STM), a global semiconductor leader serving customers across the spectrum of electronics applications, is set to accelerate the spread of connected smart objects throughout homes, shopping areas, industry, toys and gaming, personal healthcare and infrastructure.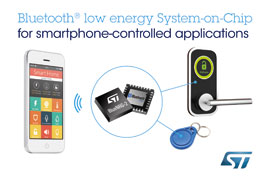 Built into all new mobile phones, tablets, and computers, Bluetooth Low Energy wireless technology enables consumers to interact with any BLE-enabled object from their own devices. Similarly, service providers can conveniently connect assets to the Cloud for service delivery and data collection.
ST sees important opportunities for BLE-connected applications that are simple, functionally focused, and can operate on a button cell for months or years. The new BlueNRG-2 chip meets all these needs with its extremely power-efficient programmable processor and low-power features including an ultra-frugal standby mode. The high RF signal strength saves system power by ensuring reliable wireless communication, and generous on-chip memory for BLE software and application code simplifies system design by saving external memory components. BlueNRG-2 is Bluetooth 5.0-certified, which ensures interoperability with the latest generation of smartphones, and supports enhanced features such as state-of-the-art security, privacy, and extended packet length for faster data transfer.
"The BlueNRG-2 ushers in an era of connected smart things all around us, enabling secure, reliable and energy-efficient interaction with any object, like a toothbrush or lighting switch, from our mobile devices," said Benedetto Vigna, Executive Vice President, Analog and MEMS Group General Manager, STMicroelectronics. "Moreover, the objects can benefit from simple construction, fully sealed if necessary, and yet fully interoperable through natural voice control or the feature-rich and stylish user interface of an Android or iOS smart application."
A comprehensive Software Development Kit (SDK) is available, featuring the BlueNRG Navigator Graphical User Interface (GUI), which makes it extremely easy for designers and innovators to create the next generation of connected devices with the BlueNRG-2 chip and realize the vision for a smarter environment.
BlueNRG-2 is available now, in a 32-pin QFN. Further options will be introduced later in the year, offering more GPIO in a 48-pin QFN and an ultra-small 2.6mm x 2.7mm WLCSP chip-scale package. Budgetary pricing for the BlueNRG-232 (QFN package) is $1.95 for orders of 1000 pieces. The SDK can be downloaded free of charge from www.st.com/stsw-bluenrg1-dk-pr