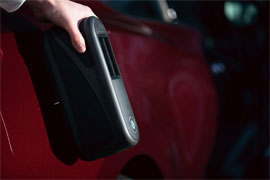 The next-generation MA-T family of instruments combines color imaging and multi-angle measurement to deliver the most precise characterization of color, sparkle and coarseness
GRAND RAPIDS, Mich., September 12, 2017 – X-Rite Incorporated, a global leader in color science and technology, and its subsidiary Pantone LLC, today announced a next-generation family of portable multi-angle spectrophotometers that sets a new standard for characterizing effect finishes. The new MA-T12, a 12-angle device, and the MA-T6, a six-angle device, are the first instruments to combine color imaging and multi-angle spectral measurement to quantify color, sparkle and coarseness. These new devices allow customers to more precisely define and control the extreme effect finishes now commonly used in the automotive, plastics, coatings, and cosmetics industries to reduce defects and achieve more efficient quality assurance.
Color is a decisive buying factor when it comes to the purchase of new products – from cars, to consumer electronics and household appliances. Consistency of color across different components of a product strongly influences a customer's perception of quality. In today's competitive marketplace, manufacturers increasingly use extreme effect finishes to differentiate themselves. For example, in the automotive industry, approximately 70 percent of new vehicles use effect finishes that include aluminums, pearls or special effect pigments like Xirallics. As a result, measurement of color alone is no longer sufficient to completely characterize these materials, or to ensure consistency across adjacent parts, such as car bumpers and body panels. This is especially true when parts are manufactured by different suppliers at multiple locations. The new MA-T family is designed to help manufacturers set, communicate, and ensure conformance with global standards for effect finishes – encompassing color, sparkle and coarseness – to achieve a new level of consistency and harmony.