"RS introduces New Raspberry Pi 2 Model B promising more than six times the processing power and twice the memory of previous models – now available to order from RS Components & Controls (I) Ltd"
RS Components, the global distributor for over 5.5 Lakh components from over 2500 leading brands announced the availability of next-generation Raspberry Pi 2 Model B, credit card-sized single-board computer from the Raspberry Pi Foundation in its range. The product is now available to order in India at www.rsindia.com with Stock No.832-6274.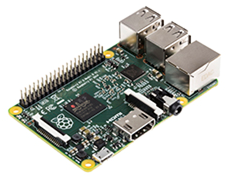 The new generation of Raspberry Pi 2 Model B is all set to drive immense interest among the targeted consumers, businesses and educators with faster processor cores, Double the memory capacity and other significant upgraded capabilities. Raspberry Pi 2 incorporates features that are unique and envisage meticulous functioning. Further, the power consumption and dissipation for the Raspberry Pi 2 Model B are almost the same as for Raspberry Pi B+.
Get to know about the newly harnessed features.
6x Faster processing: The new modal comprises of Broadcom BCM2836 application processor, containing a powerful ARM Cortex-A7 quad-core CPU running at 900MHz. This new processor makes the Raspberry Pi 2 more than six times more powerful than the first generation Raspberry Pi Model B+. It is an upgraded Quad core processor as compared to single core processor of previous modals.
Compatibility with the former B+: The board layout of Broadcom BCM2836 application processor, multimedia subsystem and peripherals remain fully compatible with the earlier Raspberry Pi Model B+, including the use of the extensive 40-pin GPIO (General Purpose Input Output) connector, four USB ports and an efficient switching power supply. In Addition, Raspberry Pi 2 Model B is Compatible with Raspberry Pi A+ device hardware with the exception of cases.
Increased Computing power: With the increased computing power and memory of new Raspberry Pi 2 Modal B hobbyists, hackers and home developers are sure to get benefitted. The new modal will enable them to develop more powerful applications that will run faster. In addition, OEMs will also be able to benefit from the new board's (of Broadcom BCM2836 application processor) greater processing capacity as well as the Raspberry Pi platform's record of reliability and robustness. Those involved in educating the next generation of young programmers will also take notice of this highly capable new board.
Updated Software NOOBS 1.4: The software engineering department at the Raspberry Pi Foundation spent extra time ensuring that the new features of the NOOBS 1.4 operating system were properly integrated to improve the customer experience. The previous modals used to boot from the SD card, running a version of the Linux operating system. Raspberry Pi 2 Model B software NOOBS 1.4 will be available for download only from the Raspberry Pi website www.raspberrypi.org or alternatively can be bought at RS India website www.rsindia.com using stock number # 849-2012
Manufacturing: It is also worth to be noted that the new Raspberry Pi 2 Model B is a guaranteed UK built device of the highest quality with units manufactured in Sony UK manufacturing plant. Customers can order their new Raspberry Pi 2 Model B with RS Components using RS stock code 832-6274 & 847-2816.

Raspberry Pi 2 can be ordered in India from www.rsindia.com.
Further information on the Raspberry Pi Foundation can be found at www.raspberrypi.org.
Further information on the DesignSpark community and range of tools can be found at www.designspark.com.
Please note that the previous models Raspberry Pi A+, Raspberry Pi B and Raspberry Pi B+ will stay as valid products in the RS catalogue and will not be made obsolete by the Raspberry Pi Foundation. Customers can still continue to place their orders for the same with RS Components.
For more information, please visit the website at www.rsindia.com
Reach out to us at: Tollfree: 1800 180 7746, Tel: + 91- 120- 4519100, fax: +91-120- 4519198/199
RS Components & Controls (I) Ltd                               
B-74 Sec 60, Noida 201301.
For more information, please visit the website at www.rsindia.com
Reach out to us at – sales@rs-components.co.in