HSAutoLink™ interconnect system leverages Molex's expertise at producing high-speed cable technology and adapting to needs of the emerging segment of the "Connected Vehicle" (Vehicle-to-Vehicle communications, Infotainment and Telematics)
The "Connected Vehicle" industry has seen the rapid proliferation of in-vehicle cameras, digital high-resolution displays and 24-bit color imagery. This has led to a sharp increase in bandwidth requirements for automotive and commercial vehicles.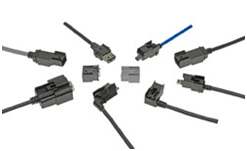 The next-generation HSAutoLink™ Interconnect System addresses these ever-increasing requirements by providing a robust, sealed and cost-competitive system with data rates up to 5 Gbps. Supporting multiple high-speed communication protocols such as LVDS, USB 2.0, USB 3.0 and DisplayPort, the HSAutoLink Interconnect System has the bandwidth to support advanced infotainment, telematics and camera devices across the automotive and commercial vehicle industries.
Heilind Asia supports both original equipment and contract manufacturers in all market segments of the electronics industry, stocking products from the industry's leading manufacturers in 25 component categories, with a particular focus on interconnect and electromechanical products.
About Heilind Electronics

Founded in 1974, Heilind Electronics, Inc. (http://www.heilind.com) is one of the world's leading distributors of connectors, relays, switches, thermal management & circuit protection products, terminal blocks, wire & cable, wiring accessories and insulation & identification products. Heilind has over 40 facilities in the United States, Canada, Mexico, Brazil, Germany, Hong Kong, Singapore and China.
Heilind Asia Pacific (http://www.heilindasia.com) commenced operations in Dec 2012, and now has 19 locations throughout Asia. Its industry leading service offering to customers in Asia Pacific is the result of a commitment to the belief of "Distribution As It Should Be".