New Delhi, India —May 13, 2014—Designers of Industrial Automation may now add a high-accuracy, 4-channel analog output to their reference  designs with 33% fewer components than competitive designs. Simply use the Alameda (MAXREFDES24#) subsystem reference design, now available for sale, from Maxim Integrated Products, Inc. (NASDAQ: MXIM).
Industrial programmable logic controllers (PLCs) need multiple, flexible, high accuracy analog outputs. The Alameda subsystem combines four high-accuracy (< ±0.1%) outputs with a high-efficiency, low-noise power supply controller on a single board. Alameda offers extreme flexibility—its outputs are configurable to ±10V, ±20mA, 0 to 10V, or 4–20mA for current and voltage signaling applications. Automatic error reporting for detecting open and short circuits, brown-outs, and overtemperature conditions make this subsystem ideal for demanding, precision industrial control and automation applications. 
  "With the Alameda reference design, Maxim is taking an extra step to integrate an efficient power supply and accurate analog outputs into one design," said David Andeen, Reference Design Manager at Maxim Integrated. "This is the value of a reference design and these solutions will help engineers overcome the system level challenges they have when designing for industrial automation applications."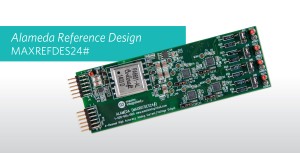 Key Advantages
Fully tested: schematics, layout files, and firmware are available for immediate use and customization.
Uses fewer components: unique, integrated parts reduce number of components by 33% compared to competitive designs.
Speeds designs: integrates an efficient power supply with a 4-channel analog output in a single compact system to solve noise issues and save engineers development time.
Improves PLC system reliability: automatically detects short-circuit, open-circuit, brown-out, and overtemperature conditions. 
Pricing
Boards are available for purchase for $95 at Maxim's website and select franchised distributors. For information on other reference designs, please visit Maxim's Reference Design Center.