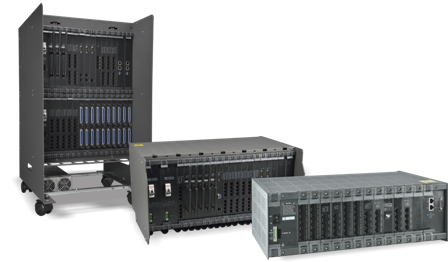 Matrix, a leading manufacturer of Telecom and Security solutions, is known for its industry specific solutions tailored for different sized businesses. The company holds a channel of 1,000 partners across the globe to whom it explains all applications of products to help them realize new markets and generate high revenue.
The educational institutions are always searching for the latest technological solutions that help them deliver enhanced services to their students at reduced rates. With the wave of change constantly blowing, students are looking for ubiquitous educational programs. Investing in reliable Unified Communication, cloud solutions and other collaborative technologies can help institutes suffice all the requirements of students through a least complicated architecture. Some of the other advantages of deploying Unified Communication in an educational environment are as follows:
Multiple Feature Access from a Single Screen: Unified Communication, initially known as IP telephony, combines real-time and non-real-time modes of communication in a single interface. The solution supports variety of IP, Digital and Analog endpoints to enable students and teachers to connect from anywhere, regardless of their location. Other features such as multilingual Auto-attendant and Voicemail to Email allows the faculties to tailor an enhanced experience for their students by remaining constantly in touch with them. Flexibility to access multiple communication tools from the same interface help teachers lower down the redundant work and focus more on productive tasks. Flawless and hassle free arrangement of SMS or email campaigns help staff communicate important messages to numerous students with a single click.
Mobility: Owing to the global architecture of the schools, collaboration amongst students, faculties and the admin staff is becoming important. Unified Communication backs up in this aspect by bringing multiple systems on the same network for uninterrupted communication. Other flexibilities such as Video Calls, Conferencing, advanced messaging capabilities and more help teachers reach out to parents and students in the most intuitive ways. However, equipping admin staff with tools offering advanced call management features help them manage their regular interactions with parents and students.
Reduced Telephony Costs: Apart from merging different applications, the Unified Communication offers integrated access of legacy and modern networks from a single chassis. IP at Core, intelligent routing through the least cost effective trunk and scalability help authorities ensure robust communication network at reduced costs.
There are many other aspects where Unified Communication enable educational institutions to streamline internal communication and offer improved experience to their students.
"The education industry is continuously evolving, and hence, is looking for a system that withstands test of time and technology. Matrix SARVAM UCS series addresses the exact needs of this sector with its innovative features and flexibilities. We are relentlessly working to add features that improve usability of platform and help us target different segments", said Ganesh Jivani, Managing Director.