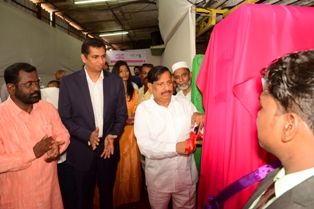 Plans to set up 100 EV charging stations by the end of 2018Magenta Power, one of the leading service providers of renewable energy solutions in association with Exicom, installs India's first to boast Solar Charging Station (DC Fast Charge) for Electric Vehicles in Turbhe, Navi Mumbai.The event was graced by Mr.Ganesh Naik, Ex MLA and Member of NCP.Called as Magenta Charging Station- 3, the new charging station will cater to four-wheelers.The newly installed chargers will enable electric car users to charge their cars at any time safely and conveniently. The grid-connected charging station will be powered by solar,which in turn makes the entire ecosystem totally free of fossil fuel. By reducing the carbon emissions to zero, it is the right solution for an eco-friendly environment.

Speaking at the event, Mr. Maxson Lewis, CEO Magenta Power said, "We are very proud to set up our first solar based Electric Vehicle Charging Station in Navi Mumbai. It is also India's first Solar based EV charging station. Solar panels and electric vehicles are the perfect match that are certainly going to play a key role in the energy systems of the next 25 years. As the nation moves towards clean and affordable power for all, it is our attempt to provide customers with the best solutions for a greener tomorrow".

Advertisement

The Government undoubtedly has been encouraging the move towards Electric Vehicles and the shift shall be more evident by 2030, understanding which Magenta already has begun its plan to build the seamless network of Electric Vehicle Charging Stations, enabling easier adoption among the audience with proximity and making them future ready.

Magenta has aggressive plans in EV space and aims to set up 100 charging stations at various locations in Mumbai and is in discussions with various stakeholders to this end.