Lost and Found universal locator provides all in one, low-tech solution to finding lost household and workplace items – for those close to us unfamiliar with somewhat complex mobile apps.
Kickstarter campaign launches March 23, 2015
March 3, 2015, TORONTO – For people overwhelmed or unfamiliar with mobile apps, Lost and Found provides relief with a simple low-tech solution to an everyday problem. Household and office items like keys, remote controls, phones, glasses case, staplers, and more are routinely misplaced. Lost and Found remotely locates a variety of objects using a battery powered home base and a series of fobs. Designed by 25-year-old, Toronto based entrepreneur Ryan Lamanna, Lost and Found launches a Kickstarter campaign on March 23, 2015 to raise the funds needed for its first production run.
Video Preview
Lost and Found Kickstarter from Ryan Lamanna on Vimeo.
"Many consumers are linked in, and online more than ever, which can be overwhelming for those who are unfamiliar or uncomfortable with new technology," said inventor Ryan Lamanna. "Lost and Found gives consumers an easy-to-use, low-tech option that prides itself on user simplicity."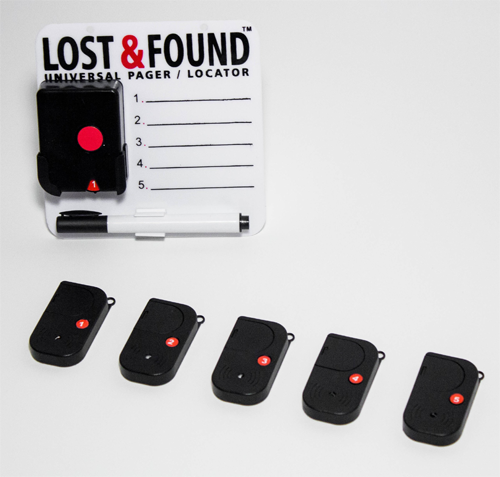 How it works: Users mount the Lost and Found home base to a fixed, easily accessible location, and list five frequently lost items on its dry-erase board. Attach the corresponding numbered tags to the assigned objects using either the key ring hole or the included double-sided adhesive tape. When any of the items go missing, turn the dial on the home base to match the missing item number and press the button. The specified tag with beep until found and turned off.
Lost and Found has a low price point, thin design, a range of 80 feet, and does not depend on app technology or wifi. The device includes batteries that are replaceable and long lasting.
Lost and Found's Kickstarter goal is $15,000 by Friday, May 8th. Details on pricing, how to donate, and available incentives will be announced on March 23.