Award represents highest recognition possible of a supplier's performance within TTI Asia
China, Beijing, April 11, 2014 — Littelfuse, Inc., the global leader in circuit protection, was recently recognized with a 2013 Supplier Excellence Award from TTI Asia.  Littelfuse Far East has now achieved "Gold" status for winning this recognition for four conservative years.  Gordon Hunter, Littelfuse CEO, accepted the award on behalf of the company at a ceremony held in TTI Asia's Singapore office.
Deepak Nayar, vice president and general manager, Electronics Business Unit of Littelfuse, said, "We're very pleased to be recognized by TTI Asia, a well-regarded leader in electronics distribution.  This is the fourth consecutive year that we are receiving this award, highlighting the continuous value we bring to our customers and the relentless commitment of our associates in providing industry-leading level of quality and service.  We definitely look forward to strengthening our relationship with TTI Asia."
Sam Sung, vice president, product management, TTI Asia, noted, "Achievement of this award not only represents the dedication of all Littelfuse Far East employees to TTI Asia, but also management's commitment and overall operating philosophy for excellence by allocation of resources, allowing employees the opportunity to do the right thing in order to ensure customer satisfaction.  For this, we thank you."
Pictured here, from left to right:  Alvin Tan, Product Manager, TTI Asia; Edwin Koh, Littelfuse Global EMS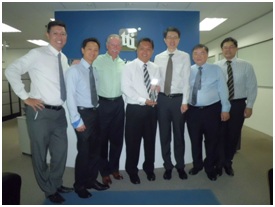 Manager; Gordon Hunter, Littelfuse CEO; KY Ong, Littelfuse Sales Director – SEA and ANZ, Global EMS; Sam Sung, VP of Product Management, TTI Asia; Keith Lam, Regional VP of Sales, TTI Asia; and Jason Tan, Senior Supplier Marketing Manager, TTI Asia.