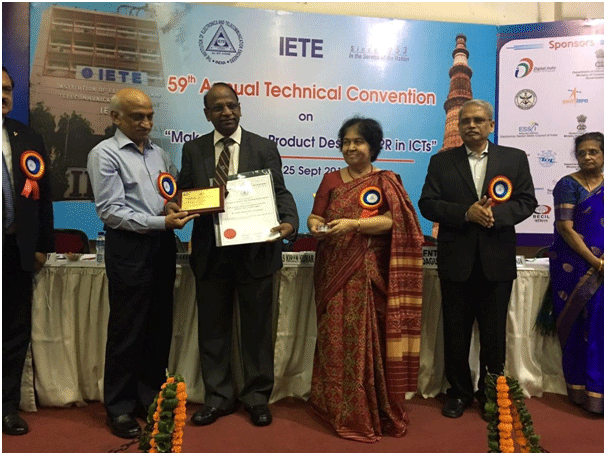 As per Electronics Policy 2016, LEDs have witnessed high adoption ratio from consumers in India. Given the strong push towards sustainable solutions, especially in lighting, the Indian LED market is projected to grow to USD 3.5 billion by 2020. Telangana State is treating LED as an "Area of Strategic Importance" and shall be providing Special incentives for these focus areas".
Kwality Photonics Pvt Ltd, India's pioneer manufacturer of Professional Grade LEDs for 29 years, has signed MOU with Telangana State to setup India's first global scale LED Semiconductor Plant in Telangana to produce 100 million LEDs per day for Lighting and mobile phone display Backlighting (BLU) verticals with an investment of Rs.200 crore over next 3 years.
Here is the discussion with Mr. K Vijay Kumar Gupta, MD and CEO, Kwality Photonics asking him about LED market and growth, manufacturing and trends.
Share your insights on India LED market and demand?
With relatively low LED light penetration and huge untapped opportunity, India has become an attractive market for both domestic as well as international LED players. The market has witnessed a phenomenal growth over the past five years and the trend is expected to continue over the next five years.
Presently, the outdoor LED lighting segment is the largest revenue generator. However, the indoor segment is anticipated to witness strong growth in future owing to rising awareness about LED technology and various government initiatives to subsidize
One can see that the Indian LED market is getting mainstreamed rapidly, thanks to the momentum generated by EESL tenders over last two years. First round of 25 Crores bulbs have reached the public through Municipalities & Discoms, out of the targeted 80 Cr Bulbs in current use. The Street lighting program is in full steam, and the B2C business is logging healthy growth, thanks to a sharp fall in prices. All newly built places now have false ceilings with 8 to 10 Downlights, a move away from traditional single light source per room. This practice should artificially boost the volumes in consumption of LED lighting.
2. How does 'Make in India' initiative drive Indian LED manufacturers and what are the benefits you are getting?
To the credit of officers in the DEITY, it may be said that a very pragmatic Make In India policy was grounded in 2012 itself by way of very forward looking ESDM policy, which among others provided for 25% cash subsidy (MSIPS) for investments exceeding a set threshold, CVD/SAD duty reimbursement & preference to electronic products with local content of at least 65% in Govt purchases (PMA).
Yet, further fine tuning the policy is STILL desirable.
MSIPS Threshold: The LEDs, classified as Semiconductor ATMP (Assembly Test Marking & Packaging) industry, are covered under MSIPS scheme with a threshold of Rs10 Cr. This threshold is wrongly set at higher value, whereas a  modern LED plant of viable entry level capacity can happen with Rs5~6 Crores. This higher threshold may deny the intended incentives to genuine entrepreneurs and discourage many new entrants. This effect is evidenced by lack of any applicants under ATMP category. It may be observed that most of the projects grounded under MSIPs are Low-Tech being – simpler Soldering & product assembly. Proposals for Electronic Components & Electronic Materials are conspicuous by their absence.
The PMA:  the Preferential Manufacturer Access, to govt purchases is more conspicuous by lack of commitment by user departments to proactively woo the new manufacturers with clear cut support policy. The User departments should mention the words ESDM & PMA in their tender procedures and extend quick registration & separate quota in tenders for MSIPS Enterprises, Directly award trial orders that would enable them to build supply track record. This would enable MSIPS enterprises fast track their evolution into mainstream suppliers.
At present SMD LEDs used in Lighting Application is a high volume game, a game in which Chinese excel. The Indian Lighting trade's penchant for lowest prices, makes it a challenge to take on the low cost imports from China. It may be noted that LEDs have attained a commodity status, as there is little distinction between various makers. However this work out to the advantage of Kwality making it easier to merge into the global LED scene with the customers being least sensitive to brand and ready experiments when quality is promised.
3. Can you compare India LED trends with global market?
India market trend is no different from Global market trend. Initially it was Hi power LEDs with large foot print costing Rs. 20 power watt that employed single large die inside. Then came the SMD LEDs with improved thermal pad construction and low cost low current dice. The retrofit Lighting industry took to life, riding on the back of the high volume backlighting industry with it vastly lowered cost of medium powered LEDs. Innovative design philosophy which dismantled smallest of excess tolerances or over done designs, reduced the costs rapidly and helped the markets to accept right- sizing. This led to steep cost cutting of inputs from Chip makers and leadframe makers. Today the LED prices can rightly claim the credit in bringing down the cost of light energy from Rs.10 power watt to Rs. 1 per watt ! The Wide acceptance of LED technology by the consumers has opened up huge opportunity in LED lighting.
Can you discuss LED pricing trends in India?
The prices have seen a dramatic fall in last two years. Whenever one felt that the prices bottomed out, there followed one more bout of reduction.
There is excess capacity in China. Chinese sell with prices as USP and put pressure on their vendor to cut costs.  This clamour for lower cost has driven the input materials industry to find substitute materials and do extreme value engineering, irrespective of impairment in performance. Best example of this is the LED Leadframe – with the copper heatpad changed to IRON heatpad , and MCPCB replaced by FR4 PCB,  both of which leave virtually no thermal channel for heat generated in the LEDs! Its heartening to note that this market is migrating back to the standard copper version after a short period of dabbling with iron. It may however be noted that all the through hole LEDs are still made with iron leads, as these are essentially low current driven into oversized LED die, one cannot yet say that iron is a bad word as far as Low power LEDs are concerned.
What innovations we could foresee in near future?


Huge amount of innovation is happening in LED epi & LED packaging technology. LED epi is driven by quest to squeeze more & more light output from a given die size – improving crystal defects in MOCVD process, adding layers to help better hole – electron recombination or improve back plane reflectivity, substrate  treatment & substrate elimination to improve light extraction, and efforts towards reducing the droop ( loss of light at high current densities) and building electrodes to conduct heat out directly.
On packaging side, there are innovations to take the die directly to the PCB and save on the packaging process. The Flipchip and CSP are effort in that direction. The process is complex & expensive as of now, but has promising dividend in terms of better thermal conductivity and better droop. Presently limited  to the  Automotive High power & high end applications, these technologies may not compete at the low current for many years to come.
Kwality LEDchip Indus is already preparing grounds to induct new technologies as soon as they become main stream or when they are ready to deliver extra benefit to our customers.
Kwality may offer FC COBs in collaboration with US partners, at feasible cost v/s performance upto 2000 Watts! You can count of Kwality LEDchip Indus to be ahead of the pack in bringing leading edge technologies to be manufactured and supplied in India.

What are your efforts for customer satisfaction?
Customer is the epicenter of the Business processes in Kwality. Every effort is made to make the customer experience highest comfort in dealing with us right through enquiry, order placement, order fulfillment stages and get quick redressal of rare discrepancies, if any at all. The communication is fast, precise, & relevant. The documentation is precise and has  reusable significance.
What are your current activities and any future plans in coming years?

Kwality LEDchip Indus feels privileged and honored to assume a Role of LEADER & PIONEER, beckoned by the Make-in-India movement called by our PM Modiji, in the most challenging field of LEDs & Semiconductor Packaging.
LEDchip Indus, a  Startup spinoff from house of  Kwality, have built a very modern and advanced  LED packaging facility aimed at achieving Global scale of production capacity. The capacity of fully automatic LED machinery at LEDchip India will be ramped up to a contemporary 3 billion LEDs per annum and thence onward to 30 billion per annum, by the end of our first pit stop. Ultimately a capacity of Trillion LEDs is envisaged with mix of Conventional, futuristic packages.
In the challenging journey on way to this goal, Kwality may set up Captive Production lines for big Indian Lighting Brands to ensure assured supply-chain- logistics for them. Kwality is also actively considering cooperation with Korean, European & American IPR Firms, who are averse to set shop in China, for reasons well known.
The LEDchip Indus is certified INNOVATION company and qualifies for the STARTUP INDIA status from NITI Ayog.  Kwality group has signed MOU with government of Telangana to invest over 200 crores to produce LEDs in Hyderabad. The Telangana IT Dept led by dynamic Minister Sri KT Ramarao responded by according MEGA project status to LED Semiconductor industry and is mulling to offer incentives tailored to offset the competitive hurdles faced by electronic component Industry – be it in the form of subsidy matching to MSIPs, interest subvention for this CAPEX intensive sector & giving access to Developed industrial land and many more.
The project received encouragement from MEITY secretary, from Dr Ajay Kumar- the architect of the ESDM policy, and higher officials of DEITY.
The LEDs produced by Kwality LEDchip Indus will be of Higher Order Reliability thanks to deliberate focus, tweaking of the processes and use of machines that eliminate any kind of touch by human hand. We have tie-ups with overseas vendors for giving us advantage in costs of materials supplied. Kwality LEDchip Indus has clear road map to also build capability to produce few cost sensitive raw materials indigenously as this local manufacturing presents us with cost advantage.
Kwality LEDchip Indus is making a Comprehensive foray into setting up India's First & Sole MEGA LED packaging plant. Kwality welcomes every kind of partner, Global or Indian, to share this fruits with us and help us to realise the dream to have India-LEDs – say mission christened as "Meraa BHAARAT – Meraa LED".