Evolution. Revolution. Reality.
Keysight wireless design and test tools enable the exploration of new technologies needed for next-generation 5G communications. In design and test, our solutions help innovate across new and existing technologies as new ideas are transformed into reality. The development of 5G depends on up-to-date tools that let designers easily explore new signals, scenarios and topologies.
As the leading provider of test and measurement solutions for wideband RF, microwave and millimeter-wave technologies, we have two primary goals in 5G. One is to assist commercial researchers as they accelerate the development and verification of new-generation designs. The other is to help researchers in academia explore groundbreaking concepts with greater precision and deeper confidence.
We are supporting these efforts with an unmatched range of 5G solutions based on Keysight hardware and software products. All will assist engineers and scientists as they drive the evolution of existing technologies, create revolution through new innovations, and transform the vision of 5G into reality.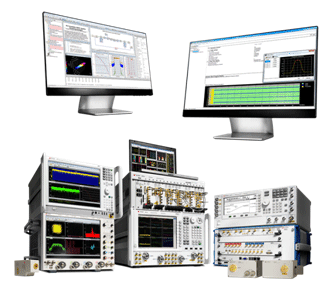 Innovate across new and existing technologies with Keysight's unmatched 5G solutions
Cross traditional boundaries and innovate the physical layer with SystemVue ESL design software

Define new architectures and algorithms with a simple and easy model-based design workflow
Accelerate real-world maturity and streamline development through superior integration with test hardware

Accelerate development of new mmWave channel models using the 5G channel sounding reference solution

Characterize mmWave behavior at ultra-wide bandwidths in SISO and MIMO scenarios
See more in less time through fast data capture with real-time correlation and processing of MIMO channels
Trust measurement results with system-wide calibration plus precise timing and synchronization

Characterize the performance of early 5G designs using Anite's Propsim® radio channel emulators, with industry-first 5G radio channel models

Verify very high data rates as well as implement advanced 5G features, such as multi-user MIMO and beamforming using the enhanced bandwidth capability- up to 1GHz bandwidth with MIMO

Perform broad "what if?" analysis with the 5G waveform generation and analysis testbed reference solution

Create waveforms at RF, microwave and millimeter-wave frequencies with modulation bandwidths of up to 2 GHz
Evaluate early concepts that use a variety of modulation schemes at different frequencies and bandwidths
Assess proposed waveforms with prototype algorithms and hardware

Simplify signal creation at every stage with Signal Studio for Custom Modulation software (N7608B)

Produce highly realistic signal scenarios with high resolution and wide bandwidth—simultaneously—in the M8190A arbitrary waveform generator
Test your designs within and beyond their limits with PSG, MXG and EXG analog and vector signal generators

Explore virtually every facet of a signal and optimize your most advanced designs with the 89600 VSA software

See more and take your design farther with wider, deeper views of wideband signals using the UXA signal analyzer
Examine the "what," understand the "why" and see your fastest signals as they really are with Z-Series oscilloscopes

Transform deeper understanding into better designs with exceptional measurement integrity in the PNA and PNA-X vector network analyzers

Drive your antenna designs forward with better measurements and better models using the PNA-X measurement receiver
Keysight's Research Partnership and Helping to Create Standards
Keysight plays an important leadership role by enabling dedicated program to drive 5G Advanced Research and Experiment together with key early 5G players. Active members in the leading 5G forums and consortia as well as the various standard bodies such as 3GPP and Wi-Fi alliance. We serve on more standards committees than any other T&M vendor enabling us to work closely with our customers. This ensures that Keysight is not only helping to define next generation standards, but also the test procedures. Because of our close relationship with the industry we develop the right test instruments. We provide ongoing new products to the market with enough headroom for the new upcoming test challenges
Keysight continues to invest in research. Keysight Laboratories is the central applied research laboratory of Keysight, dedicated to providing breakthrough competitive advantages that result in market leadership and value for customers. Our investments in research ensure that our solutions and our customers stay in front.
Keysight Laboratories is staffed by a team of world class researchers, including 4 IEEE Fellows and 3 Keysight Fellows. The research team has deep expertise across a broad range of technical disciplines, including RF & microwave, wireless, photonics, ASIC design, measurement science, distributed systems and software.