BANNOCKBURN, Ill., USA, April 5, 2016 — The electronics industry has never settled on a single approach for moving printed board design data to manufacturing. With the release of IPC-2581B, Generic Requirements for Printed Board Assembly Products Manufacturing Description Data and Transfer Methodology, design engineers now have a way to organize and convey printed circuit board designs from CAD tools in a single intelligent file to manufacturing for fabrication, assembly and test.
At Design Forum at IPC APEX EXPO, this newest release was applied to a real-world scenario, when founding IPC-2581 Consortium member company, Fujitsu Network Communications, Inc., unveiled a 20-layer complex board manufactured only using an IPC-2581B design file.
"IPC-2581B uses an intelligent XML schema format that accelerates printed circuit board fabrication, assembly and testing, and enables design data to be transferred between engineering and manufacturing without the need for human interpretation," said Tsuyoshi Ueshima, Senior Vice President of Development at Fujitsu Network Communications, Inc. "This eliminates redundant labor and reduces the opportunity for error, resulting in high quality products that customers expect."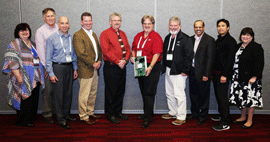 For more information on IPC-2581B or the IPC-2581B Consortium, visit www.ipc-2581.com.