offLINE programming systems (manual or fully automated)
onBOARD programming systems (programming of assemblies)
Programming of ICs and assemblies as service offering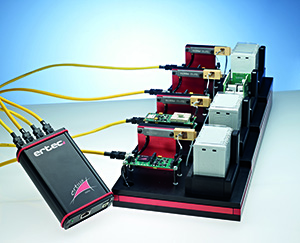 Especially the new onBOARD programming system "ertius", a high speed flasher for assemblies, enables extremely fast and interference-free  programming directly in the production line.
Up to 4 programming heads can be controlled via a cable of up to 5 meters; if required, with galvanic signal separation.
The individual programming processes on the programming heads are completely independent from each other. Therefore, it is possible to simultaneously program the same or various devices with identical or different data.
Due to the flexible structure of "ertius", project-specific customer requirements, such as serial number programming, restoring and modifying individual production data or setting up read/write protection can be easily implemented.