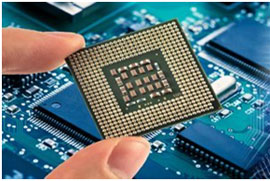 The continuous development in electronic industry has triggered the development of electrical and electronic component industry as well. From your laptop to your music player, every electronic device uses a combination of basic components. There has been a faster growth reported in the electronic components sector.
The list of electronic components basically includes ICs, Cables and Switches, Resistors and Capacitors, Inductors & Power Supplies, Lighting Products & Components, Circuit Boards.
The growth of the Indian electronics industry has triggered the expansion of electronic component industry. India continues to import a significant amount of components every year. According to a report, India imports about 95% of its components for the electronics industry. This is due to the fact that there is no duty on importing components, which makes component distribution more profitable than manufacturing in the country. That explains why there are more traders than manufacturers in India.
India is the second largest electronics component importer in the world and has huge demand of electronics component in consumer electronics manufacturer. An increased demand in component has given birth to online component distribution and supply in the market. There are some major players in distribution industry which claims to have 50 Lakh+ products available online from top manufacturers in worldwide. Mouser, Digi key and RS Components are the leading players which holds top position in the list of online electronics component supplier in India.
Consumer durables and telecommunication (including mobile devices) account for the major demand for electronic components in India. This is followed by information technology and office automation and automotive industries. Other application industries like industrial electronics, medical electronics, strategic electronics and lighting industry contribute to the balance of the market. Industries like lighting and strategic electronics are expected to witness substantial growth in the near future.
Distributors at a Glance
Dave Doherty, President and COO, Digi-Key Electronics

Digi-Key Electronics

Key Focus

Digi-Key is committed to continuing to stock the widest breadth of product in the industry and adding innovative manufacturers to our linecard. We are always looking to expand our portfolio with components and technologies that enable innovation for IoT, industrial automation, automotive, wearables, and medical applications, among many others.

We will also continue to listen to the feedback of our customers and offer website updates and features that will continually enhance the ease of doing business with us.
Our differentiator has always been our wide breadth of product, both in-stock and searchable on our website. We offer 6.2 million products online with 1.3 million of them in-stock under one roof and ready for immediate shipment from 650+ quality name-brand suppliers. This accessibility allows our customers to easily find the components they need for their projects and have them shipped to their doors quickly.

We are also committed to providing best-in-class technical and customer support. We have engineers and customer service reps available to chat via the web or phone 24 hours a day, 7 days a week.
Challenges
There are so many new types of devices and technologies that are being introduced every day.  Digi-Key evaluates well over one thousand new suppliers each year.  These suppliers are making never-before-seen products – the kind people don't know exist.  This challenges us to offer these new products to our customers and make them discoverable on our website that already has over 6 million innovative products available.The Digi-Key model is unique, but it is successful and others are trying to emulate it.
Growth in India

Digi-Key's sales in India set a new company record in 2016, with over $20,000,000 USD in annual revenue. And in 2017, growth has continued to climb with sales in India up 16% through the first half of the year.


Mr. Puneet Shukla, CEO, Saison Components & Solutions

Saison Components & Solutions

Saison Components & Solutions is the leading supplier of electronics components in India. Mr. Puneet Shukla, CEO, Saison Components & Solutions shares insights on Saison component business, key focus and market growth.

Saison was started to support the customers in the electronics industry by supplying electronic components with high quality and competitive price. Since we started, our customer base kept on increasing because of our support, excellent services and trust we gained in the years. The competitive factors which keeps us ahead are our wide range of products, shorter lead times, least rejections, competitive price and timely deliveries.

Saison started with focusing on the renewable segment but kept on diversifying and entered different segments such as power, solar, consumer, lighting, telecom, defence and automotive & doing quite well in each. We do not limit ourselves into one particular segment.

We started with nothing in hand and our last year turn-over was $6.5 Mn. This year we are targeting for $8Mn.

Saison Support

As you know that according to a recent Reuters poll, India will reclaim its position as the fastest growing major global economy this year, partly propelled by benefits from a new tax system (the GST) and bolstered by an expected central bank interest rate cut.

These major changes will help our country in development by adapting more advanced technology and move towards an era of automation.

As we know that automation is already booming along with the introduction of IoT throughout the country.

Saison is supporting the manufacturers and designers by providing excellent quality components & products so that the component requirement does not hinder the development.

As we see that there is huge potential for the trending products such as POS, STB, smart meters, electric vehicle etc. Saison is actively participating and playing an important role in all the mentioned products by supplying components & helping at designing stage.

Key Strengths

Our major strength is the supercapacitor from Vinatech, Korea. We have introduced our Supercap in various segments such as wind turbine, energy meter, AMR, DG engine cranking etc.

Other than this, we have been successful in introducing many components from China such as inductors, capacitors, resistors, diodes, transistors, MOV's and many others.

Also, we keep on diversifying and keep on adding more products in our basket to maximize our support to the customer.

Challenges

One of the biggest challenge faced in the distribution industry is the under invoicing done by few distributors and importers which is the biggest obstacle as the price quoted by them was always lower (of course by unfair means).

But we expect that after implementation of GST it will be reduced in near future and even eliminated in the long term.

Other than this, some entry of low quality products also acts as an obstacle as they affect our business.