6Wresearch announces the annual release of India 3D Printer Market Report, By Application, Technology, & End Use: 2014 – 2019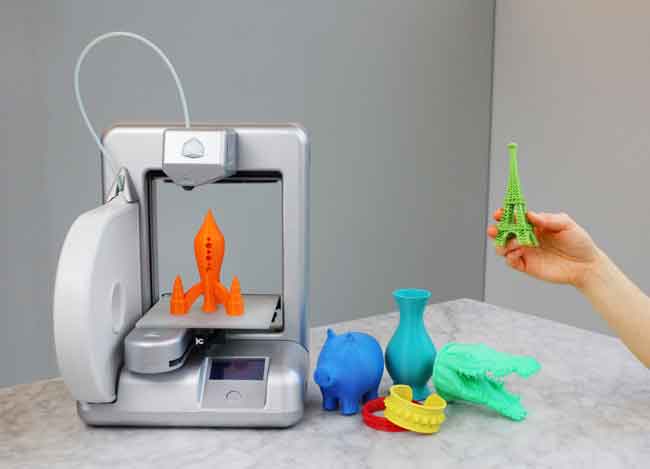 3D printer is a new wave of innovation or advancement in additive manufacturing. 3D printers have made prominent market in developed countries and with the advancements in material research, low cost product development strategies, 3D scanners, and growing awareness & extent of penetration of 3D printers across the world, the market looks promising in the near future for the manufacturers.
India is relatively new to 3D printers and with increasing initiatives by local assemblers and domestic manufactures, the 3D printers are available at affordable cost to consumers. The location of research and development bases of most of the manufacturing and engineering companies present a wide opportunity for rapid adoption of 3D printers in the country.
Indian market is sensitive towards prices of 3D printer technology. Most of the established industries follow conventional approach of modeling through CNC machines on the flipside large format 3D printers are expensive and cost almost same as that of conventional machines, which raises reluctance among industrial consumers to opt for 3D printing. 3D printing market is still on evolving stage and yet to witness major transformation such as compatibility for mass production, easier design capabilities, and manufacturing of large format objects
Utilization of 3D printers on commercial scale is yet to develop on large scale due to expensive nature, lack of awareness, and scalability of machines. These aforementioned reasons inhibit market growth in India.
The applications of 3D printing have been identified in the field of electronics, automotive, medical, architectural, aerospace, educational, industrial, and others. The predominantly used technologies in the market are selective laser sintering, stereo lithography, fused deposition modeling, and polyjet. As of 2013, electronics application leads the market (volume share of 24.1%) followed by automotive (21.2%), medical (15%), industrial (13.8%), aerospace (10.8%), architectural (5.2%), and educational (3.0%). India 3D printer market revenue is projected to reach $46 million by the year 2019.
Indian market for 3D printers have more potential in commercial segment including healthcare sector, architecture, educational, art & craft, and other 3D printing service provider companies. Special purpose applications, extent of customization, use in organ replacement, customized footwear designs, interior decoration, furniture modeling, educational models, fashion & apparels, animation & gaming, and chocolate and drug printing are some of the niche applications of 3D printers in Indian market.
Electronics application including circuit board printing, gaming consoles design, and design of other electronic goods constitutes largest application sector of 3D printing followed by automotive, industrial, medical, aerospace, and others. With the advancements in technologies, new printing material development, evolution in design software, and 3D scanning devices, the use of 3D printing in these applications is further likely to develop.
The globally established companies such as Stratasys and Optomec have partnerships or alliances with India based technology companies for increasing their customer base. Other established global players in 3D printing industry include Fabbster, 3D Systems, Leapfrog and Flashforge
Major players active in India 3D printing market (including manufacturers and distributors) space are Altem Technologies, Imaginarium, Brahma 3, KCbots, and JGroup Robotics
For further details kindly visit our website:
http://www.6wresearch.com/market-reports/india-3d-printer-market-share-printing-technology.html
http://www.6wresearch.com/press-releases/india-3d-printer-market-research-3d-printing-technologies.html