IBC SOLAR shall own and develop a large-scale project in Odisha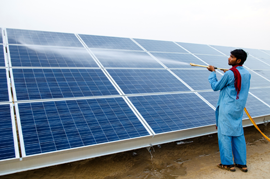 Mumbai, August 17, 2017 – IBC SOLAR AG, a global leader in photovoltaic (PV) systems and energy storage, has signed a Power Purchase Agreement (PPA) for a 20 MW AC solar plant with the Solar Energy Corporation of India (SECI). The project was part of a 270 MW AC PV tender in the state of Odisha and assigned to IBC SOLAR through a competitive auction process during 2016. The PV system is planned to be put into operation by late 2017.
IBC SOLAR has furthermore concluded negotiations about a debt finance of approximately 980 million INR for the Odisha Project with L&T Infrastructure Finance Co. Ltd., a leading Indian financial company in the infrastructure sector. This ensures the financing of the project from the construction phase. The local financing has a term of 18 years.
"We are pleased to announce the signing of the PPA with SECI, a company of the Government of India, and are confident to realise this project in the state of Odisha within the stipulated timeframe and according to our global quality standards. The confidence expressed by lenders in IBC SOLAR helps to further scale up our business in India" Mr. Shailendra Bebortha, Managing Director of IBC SOLAR Projects India Private Limited, a wholly owned subsidiary of IBC SOLAR Energy, commented.

About IBC SOLAR
IBC SOLAR is a leading global provider of photovoltaic and energy storage solutions and services. The group offers complete systems and covers the entire product range from planning to the turnkey handover of photovoltaic systems. IBC SOLAR Energy is the international project business division of IBC SOLAR based in Bad Staffelstein, Germany. The family-owned and operated company offers complete solutions for power production from solar energy and covers the entire spectrum, from site evaluation and project development to engineering, construction and the turnkey handover of photovoltaic installations followed by operation and maintenance as well as monitoring services.
Globally, IBC SOLAR has already implemented photovoltaic systems with a total capacity of more than 3.3 gigawatts (GWp). The scale ranges from utility-scale solar parks, which feed electricity into the grid, to systems for residential and commercial self-consumption, off-grid systems and large-scale storage.
IBC SOLAR was founded in 1982 in Bad Staffelstein, Germany, by CEO Udo Möhrstedt. IBC SOLAR is globally represented in more than 30 countries around the world and is directed from its central headquarter in Bad Staffelstein.