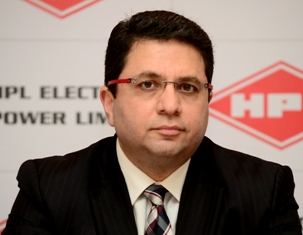 HPL Electric & Power Ltd, an established electric equipment manufacturing company in India, is participating in Elecrama 2018 at India Expo Mart in Greater Noida from March 10-14, 2018. HPL Electric & Power Ltd is showcasing its entire product range along with its four verticals: Switchgear, Meters, Lighting and Wire & Cable.
 The company also launched new products in the category of smart energy meters, solar specialty cables and distribution boxes, energy efficient LED lighting products, switchgear range and a brand new Premium MCB range "Osafe".
 Speaking on the company's participation at the exhibition, Mr. Gautam Seth, Joint Managing Director, HPL Electric & Power Ltd said,"'Elecrama provides an outstanding platform to showcase latest product offerings and provide hands-on experience of products and technology in electrical equipment and manufacturing space to relevant audience. Our experience over the last few years at Elecrama has been extremely positive, helping us to showcase our offering and connect with Customers, consultants and industry experts apart from the Indian market this also connects us to reach the various global customers seeking best in class technology & quality products . This year, we are showcasing a lot of efficient and futuristic products and a Premium range of MCB, DB & RCCB "Osafe". As a company, we always look forward to such opportunities to connect with all our customers & key stakeholders to highlight our new and efficient product offerings."
 Elecrama is the largest congregation of power sector ecosystem in the geography. It features not only equipment & technology, but also provides peerless thought leadership platforms for everything electric. Elecrama provides a platform for showcasing the latest in technology & innovation to a huge audience and layers the relevant audience for the products while also giving extra mileage to products in the right segment at right place.