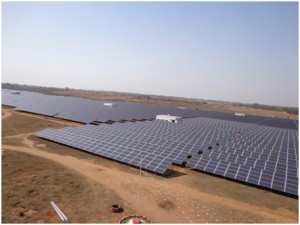 It is a fact that the sun produces enough energy in one minute to power the whole planet for one year!! Amazing!! But what are we doing about it? Why don't we solarise the whole world? Why don't we convert every energy seeking device into solar? Well we don't do it because we don't seem to be having adequate space to install solar panels all over the world. For example we can't install solar panels on the ocean, and we can't install solar panels on forests and we can't install solar panels where there are buildings… but wait. Of course solar panels can be installed on buildings!
Really speaking this requires a philosophical change and some smart countries like Germany have already opted for it, thus solarising the entire electrical landscape of the country by installing 32 GW of solar power, the highest in the world.
The ideal situation would be when houses generate their own solar power on their rooftops and feed the surplus generated power (when not being consumed) to the electric grid. Factories and industries generate solar power on their roofs for their own captive use, thus reducing load on the grid. Farmers run their own pumps using solar power. Streetlights run on their own solar panels. This would greatly reduce the load on the grid, enabling the grid to shift priority to other areas which cannot be run by solar power. And then we could have several MW level solar farms which would generate enough power to assist the local grid during low availability of power.
How then does a solar plant run? Well essentially, solar panels generate DC electricity. A solar panel may generate anything from 1 Watt to 350 Watts depending on its size. Similarly the voltage of the panel also varies from 0.4 Volts to 35 Volts per panel. Joined together in series and parallel combinations, they effectively generate a much larger volume of power. This output is now fed into an inverter, whose function is to convert the DC input to AC output for commercial use.
Homes and industries are supplied power from Power Substations. These Substations draw power from Grid Substations or Super Stations. For e.g a 1000 MW hydel power plant would deliver power to a 440/220 KV Super Station, which would transmit power to three to four 220/132 KV Grid Substations. These in turn would transmit power to several 132/33 KV Substations. The 132/33 KV Substations would step down power and transmit to several 33/11 KV Power Substations.  These 33/11 KV Substations are manned by the Distribution Utility, who would further transmit the power to homes and factories at 11 KV or at 33 KV. At homes (colonies) and factories, a small transformer would step-down the power to 440 V three phase supply, which essentially means that each phase carries 230 Volts of electricity.
Recall that our solar plant had by now converted the DC power to AC power through the inverters. This AC power is now stepped up to (say) 33 KV and transmitted to the 33/11 KV Power substation which is manned by the Distribution Utility. Our solar power thus, now augments the grid power.
Such solar power plants are called Grid Connected Solar Power Plants. In effect the power produced by the panels is consumed instantaneously by the Grid and is not stored.
A shade different, are Off-Grid solar plants. In areas where there is the National Grid is non existent, Solar power which is generated in the day is stored in batteries. Once the batteries are fully charged, the excess power is converted from DC to AC using inverters and transmitted to the user through transmission lines or cables. At night, DC is drawn from the batteries by the inverter, which converts the DC into AC and supplies to the consumer. In the process, the batteries partially drain out. These batteries are again fully charged in a few early morning hours and the cycle goes on.
There still a third variety called the Hybrid Solar Plant. This kind of plant principally derives power from more than one renewable or non-renewable source. For instance, a plant could have a wind generator, a solar generator and a diesel generator, all clubbed into one. In this case, during daytime the solar plant would generate power. At night, when the sun is not around, wind would continue to generate power. In the event that wind too is absent a Diesel Generator would automatically switch on to take care of the load. Typically, such applications are used in grid deficient regions like islands and mountains.
The Govt of India has taken several measures to ensure that these ideal situations are met, with the ambitious Jawaharlal Nehru National Solar Mission aiming to generate 22 GW of solar power by 2020. The Ministry of New and Renewable Energy deals with this subject in the Govt of India. Though accurate data is not easily available, some 2000 MW of solar installations under various schemes have already been commissioned by various Solar Power Developers. The MNRE has recently announced phase II of the mission, wherein another 2000 MW of solar development work has been commenced.
Typically, Solar Developers use EPC (Engineering, Procurement and Construction) contractors to construct the solar plant. EPC contractors are supposed to be experts in this field. This notwithstanding, the Solar Developer needs to be very careful while selecting his EPC contractor for solar plants since this is a highly technical field and only players with good experience must be chosen.
Companies and houses must secure their future needs of power by opting for solar power, whatever the immediately visible costs may be. This will greatly help them in the future, when power from fossil fuels is going to be prohibitively expensive.
About the Author
Col (Retd) Ajay Reddy is the Head of Operations of Premier Solar. Armed with 24-Year Project Management experience he has 25 MW of Solar Installations under his belt.
Contact details : ajay.reddy@premiersolarEPC.com