With more than 1,300 attendees, including Freescale customers, eco-system partners, academia and employees, FTF India 2014 was a great success. Freescale Semiconductor, a global leader in embedded processing solutions showcased over 60 innovative demos and a range of futuristic devices on Internet of things (IoT) at IoT Wall at the 9th edition of the company's annual technology summit, Freescale Technology Forum (FTF India). IoT wall is a concept wall that showcases the future of IoT and how it will make everything around us SMART. The two day event witnessed participation from people spanning Freescale's customers, eco-system partners, academia and employees.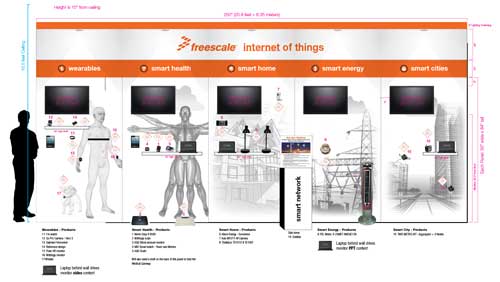 Speaking on IoT theme, Tom Deitrich, SVP & GM, Digital Networking, Freescale said "Internet of Things (IoT) is the evolution of decades of embedded processing solutions that have been improving the performance and adding intelligence to electronic devices around us. In 2010, the number of connected devices to the Internet exceeded the global population*. By 2020, it is predicted, by multiple sources, there will be 50 billion devices connected to the Internet. As this growth trend accelerates, some are pointing to 1 trillion devices by 2025**. As electronic applications evolve to address IoT, solutions need to be smaller, faster, more energy efficient and secure. Not only the semiconductor solutions need to be easier to use but software, development systems and a ecosystem support are critical for getting product to market quickly."
The IoT Wall was the major highlight of the event as Freescale showcased and demonstrated range of futuristic devices that explained the concept of IoT and how it will make everything around us SMART. The wall showcased devices like Smart Watch, Wearable Camera, Fitness Watch, Heart Beat Meter, Posture Monitor Waist Band, Dog Tracker, IoT Gateway, etc. FTF India provided attendees an opportunity to meet and explore the latest innovations in embedded design from Freescale and its eco-system partners. The two days event also provided attendees with over 77 hours of training in the domain of Automotive, Networking, Consumer, Healthcare, Industrial, Smart Energy, Software and Design Services.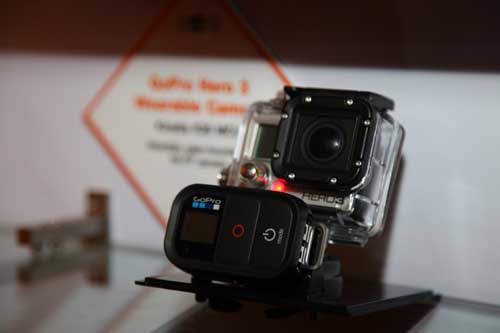 Later  at the IoT showcase, James Bates, SVP, & GM, Analog & Sensors, Freescale said, ''One promise of IoT is that the connected electronic devices will sense and monitor our environment, consult information acquired from the cloud and respond with appropriate physical action to enhance our convenience or safety or both. Today personal medical devices and telehealth applications connected to IoT offer tremendous potential for monitoring our aging population and improving our overall quality of life. In fact, the inspiration for our ant-sized Kinetis microcontroller K2 launched earlier this year was from a customer request where they were asking for help in creating a wireless device small enough to be easily swallowed and cost-effective enough to be considered 'digestible', pinpointing problems and eliminating exploratory surgery".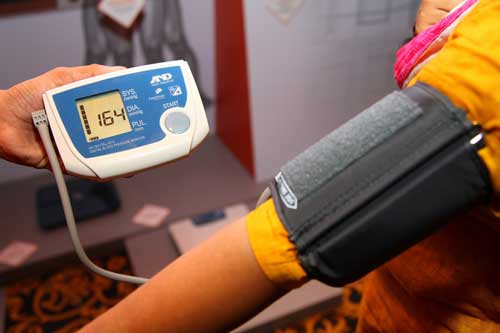 James also said "In automotive engineering, the evolution of the connected vehicle is a driving force. Automobiles are the ultimate smart mobile device with electronic solutions (ADAS) replacing mechanical systems to enhance the driving experience, improve safety and increase vehicle efficiency. The number of cars connected to the Internet worldwide is expected to increase six-fold to over 150 million connected vehicles by 2020***."
Freescale is committed to leverage the leadership positions across verticals and deliver differentiated solutions required to unleash the potential of the Internet of Things. India is one of the major focus markets along with the US, China and Japan for R&D activities and development of the next generation of embedded technologies.
About Freescale India: Headquartered in Noida, Freescale has more than 1000 employees across its India operations including a research and development centre in Noida, software centre in Hyderabad and sales and R&D office in Bangalore and is focused on delivering next-generation technologies.
About the Freescale Technology Forum: Created to inspire innovation and collaboration, the Freescale Technology Forum (FTF) has become the developer event of the year for the embedded design industry. The Forum, which debuted in 2005, has drawn nearly 52,000 attendees at FTF events worldwide since its inception. For more information about FTF events, visit www.freescale.com/ftf.
About Freescale: Freescale Semiconductor (NYSE: FSL) is a global leader in embedded processing solutions, providing industry leading products that are advancing the automotive, consumer, industrial and networking markets. From microprocessors and microcontrollers to sensors, analog integrated circuits and connectivity – our technologies are the foundation for the innovations that make our world greener, safer, healthier and more connected. Some of our key applications and end-markets include automotive safety, hybrid and all-electric vehicles, next generation wireless infrastructure, smart energy management, portable medical devices, consumer appliances and smart mobile devices. The company is based in Austin, Texas, and has design, research and development, manufacturing and sales operations around the world. http://www.freescale.com
Freescale, the Freescale logo and Kinetis are trademarks of Freescale Semiconductor, Inc. Reg. U.S. Pat. & Tm. Off. All other product or service names are the property of their respective owners. © Freescale Semiconductor Inc. 2014.