11th August, New Delhi: Enfinity Philippines Renewable Resources Inc., a subsidiary of Enfinity N.V. a leading solar energy developer in Philippines has appointed India's leading Solar EPC Sterling and Wilson to set up their 28.6 MW solar photovoltaic power plant in Sanroque, Digos, Davao, Philippines. In a major boost to the 'Make in India' campaign SWL has gone one step further by winning this project in the global solar market against big competition and proving that an Indian Solar EPC can compete globally and proudly say 'Installed by India'.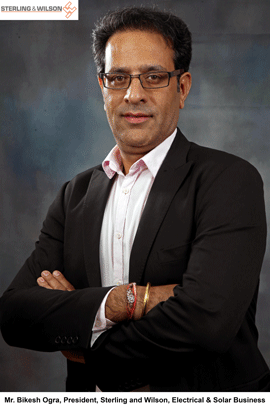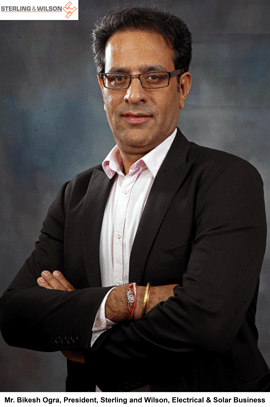 India's growing reputation as a technically competent, quality conscious, and cost effective solutions provider has been further enhanced as Sterling and Wilson was selected ahead of well entrenched international solar EPC's to partner Enfinity in setting up its solar power plant. This project will be constructed under the Department of Energy (DOE) Philippines Solar Power Procurement Program under the Feed-in-Tariff mechanism. The solar power plant capacity is expected to be around 28.6 MW (DC) / 24.75 (AC). The output power will be evacuated through a 69 kV substation and overhead transmission line of 8 kms to the nearest NGCP substation. Sterling and Wilson will use Hanwha's Solar one modules of 310 Wp power rating with central inverter solution for this project.
Speaking on the solar power plant to be set up for Enfinity Philippines Renewable Resources Inc. Mr. Bikesh Ogra, President, Sterling and Wilson, Electrical & Solar Business said, "The fact that we are one of the only Indian Solar EPC to have already set up solar projects in the International market gives us immense motivation to work harder. With human assets of nearly 3500 technically proficient people working from India and abroad, we possess an inherent strength to execute international Solar projects in an efficient and cost effective manner. We are confident that our superior engineering capabilities, experience, and expertise in setting up solar power plants internationally will enable us to deliver Enfinity Philippines Renewable Resources Inc. with a solar solution that will exceed predicted plant performance levels."
No terrains are too tough for Sterling & Wilson when it comes to setting up efficient solar power plants. Technologically advanced services and comprehensive know how of thin film, mono crystalline, and polycrystalline modules; along with different foundation of ramming and rafting type leads the organization to provide best solutions to its customers internationally. SWL will brave incessant rainfall, cyclones, land divided by creeks, and thunderstorms to deliver the project within six months from the beginning of July 2015.
Based on the site recent report and engineering interactions with Enfinity Technics Global, Sterling and Wilson will install pipe culverts for road crossing at 4 locations where the project intersects with a creek. Sterling and Wilson has also suggested a piling foundation for structures as the land has significant presence of boulders. The structural design will take into consideration high wind speeds of up to 200 km/hr and cyclones that are common phenomenon in this region. As the creek divides the plant, the array layout will be prepared as per site contours without affecting the generation as well natural water flow. The drainage system will be provided for discharge of rainwater into the existing natural stream.