Introducing EM Electronics Industry Business Directory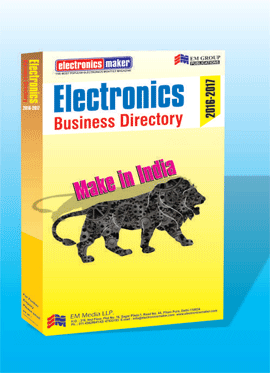 EM Media Group Electronics Business Directory is a comprehensive and authentic sourcing guide for the Indian electronics industry and provides a list of manufacturers, importers & national distributors.
We have more than 20 years of experience in connecting buyers and sellers. We publish this directory after latest market research to gather authenticates information about each company we listed in this directory. Our main source of gathering data comes from the companies themselves. Since we get information directly from the source, our data is accurate and clean. Other sources include phone efforts as well as public records and press releases.
The Directory section of this guide lists manufacturers and distributors of electronics products in India. This guide also lists important electronics associations in India, as well as government departments you should know about if you are in this industry.
Features
Authenticate Data of more than 25,000 Companies
Company Name, Products, Address, & Phone Number
Yellow Pages
Buyers Guide
Brand Names index
Information about Leading Government Departments related to the electronics Industry
An Industry overview

Why Advertise in EM Business Directory
Advertising in Business Directory has a host of benefits:
Targeted Groups
Our directories are distributed to prime target audiences. We are careful in ensuring that the recipients of the directories are worthy potential customers for any business.
Our Distribution Process
We distribute the directories door to door, ensuring they reach those we want them to reach.
Coverage Span
Our target quantity is 10,000 copies. With an average of 4 people in a home, 10,000 directories will have an audience of 40,000 people!
Print Quality & Size
The quality of our directories – clean, bright and colorful layout on gloss paper, ensures adverts are displayed in the best light.
Benefits over other forms of Print Advertising
Compared to newspapers and other means of advertising, our advert rates are more affordable. Unlike newspapers and other print media which in the end are thrown out or used to wrap things, directories are usually well kept, and used by multiple people and remain relevant for years
Directory

is an outstanding advertising value.
It is also an excellent way to highlight your company.
For more information, or to purchase a listing in our Directory, please call us or email us!
Tel: 011-45629941
Email: info@electronicsmaker.com