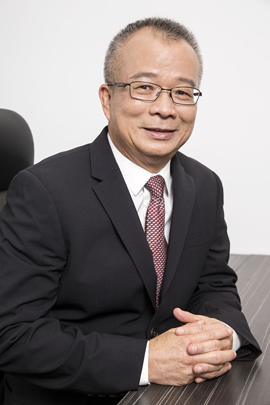 Founded in 1974, Heilind Electronics, Inc. is one of the world's leading authorized distributors of connectors, relays, switches, thermal management & circuit protection products, terminal blocks, wire & cable, wiring accessories and insulation & identification products. 


Heilind Asia Pacific commenced operations in Dec 2012.Besides being headquartered in Hong Kong, where it also has a distribution center and a value-added center, Heilind Asia now has 19 sales locations& 3 warehouses throughout Asia. Its industry leading service offering to customers in Asia Pacific is the result of a commitment to the belief of "Distribution As It Should Be".


Despite the relative sluggish economies, Heilind Asia has managed 18 consecutive quarters of Q on Q growth.In the past 5 years, Heilind Asia has been outgrowing the market. Recently,Dong Mei, Global Electronics China conducted an interview with Heilind Asia Pacific to share the 5 years' growth story.
Q: I have learned that you have been in Heilind for almost five years until the end of this year. And you had worked in this industry for a long time before that, so according to your own experience, what changes happened in the business model of distribution market?
I have seen many changes in distribution market over the years, for example:-
Changes in service offering
Consolidation of smaller regional players
Global distributors dominating the market
Emergence of global catalogue distributors
E-Commerce as a major platform for buy/sell of components
Today, traditional segmentation in the distribution channel is getting unclear as we see catalogue distributors moving upstream and major distributors moving downstream in the channel. As a specialized distributor for Interconnect and Electromechanical products, Heilind covers the whole distribution spectrum and therefore will face stiff competition with this change in the distribution channel.  However, we are confident with our strong fundamentals and proven business approach, we will continue to be successful and make headways in the Asia market.
Q: Heilind Electronics has accessed into Asia Pacific for five years, then what kind of tendency should it be if you can use a chart to describe the turnover?How do you think of the China market?
Prior to 2012, both our customers and suppliers were encouraging us to enhance our presence here in Asia by having local offices. Our NA customers with production sites in Asia want Heilind to have a local presence in order to be closer to their local facilities and our major suppliers were and are still strongly convinced that our unique business model will strengthen their service offerings via the channel.
Knowing that we were relatively late in entering the Asia market, when we first set up operations in Asia, our strategic focus for our first year of operations in 2013 were:
Replicating our highly successful NA business model in Asia
Creating a market presence via extensive marcom activities
Managing the transition of existing customers served by Heilind NA to Heilind Asia
Creating the business relationships in Asia with our key suppliers.
Since our inception, with the support of our customers and suppliers we have been outgrowing the market. Despite the relative sluggish economies, Heilind Asia has managed 18 consecutive quarters of Q on Q growth. Also, within 3 years of our operation, we have doubled our sales revenues of what we achieved in our first year of operations in 2013.
Our business goal is to offer competitive advantages derived from on our business mission of "Distribution As It Should Be". Over the years the original concept of distribution business model has evolved to what it is today. Our firm belief is that the original concept of a distributor resulted in a distributor being a true channel partner for both suppliers and customers – i.e as an extended selling arm of the suppliers and the extended purchasing arm of the customers. We want Heilind to be the preferred channel partner of choice for our suppliers and customers.
Q: How do you think of the China market?
I assume your question is regarding the challenges Heilind sees in the China market.
China today represents about 2/3 of our revenues and corresponding resources in Asia. My belief is that China will continue to be the manufacturing hub of the world for the foreseeable future. Besides local companies setting up operations to take advantage of this growth, China will remain an attractive destination for foreign investments. Distributors like Heilind will have to provide the extended sales coverage for major suppliers as well as the platform for customers to get access to a wide range of components. However, as previously mentioned, the traditional segmentation in the distribution channel is getting blurred as we see catalogue distributors moving upstream and major distributors moving downstream. As a specialized distributor for Interconnect and Electromechanical products, Heilind covers the whole distribution spectrum and therefore will face stiff competition with this change in the distribution channel. However, we are confident with our strong fundamentals and proven business approach, we will continue to be successful and make headways in a difficult market.
Q: What a team is it behind these achievements? I mean the overall situation in Asia Pacific region. As the president in Asia Pacific,what is your insightof managing team?
I see our success in Asia contributed by 2 key factors.
The continued good support of suppliers and customers.
A team of dedicated, proven professionals to drive our strategy. I strongly believe human resource is the key to a company's success. Our company's philosophy focuses very much on valuing our people and empowering them to do the necessary to fulfill our obligations to our customers, suppliers and business partners.
We will continue to finetune our strategy to ensure we stay relevant to the market development. We will not hesitate to invest in resources as and when required to ensure we continue our growth momentum.
Q:  What strategies do we have in face of e-commerce? What is the relationship between the e-commerce and an entity?
Online purchase has become a pervasive new trend in the electronic components market. We are also very much in tune with this developing trend. Heilind has developed its own online system and eStore, offering the possibility for all customers in Asia, North America and Europe to purchase on line, either utilising their open credit account or credit card. Users can place orders, check orders, track shipments, look up an invoice and track history. Price & availability, engineering, environmental and manufacturing origin data are all a simple mouse click away. Besides, we also set up Chinese website in Asia to better support our local customers
With our cooperation with 3rd party websites like Findchips, netCOMPONENTS, ICkey, RightIC, etc. we are also making sure our inventory is visible to as wide an audience as possible in Asia.
As self-media becomes more prominent in the market, we also pay close attention to new media platforms eg we own Heilind official weibo, wechat, Facebook, Twitter and Youtube. All these coverages on different platforms will offer our customers more service channels, allow them to know Heilind products better and have quicker and more convenient access to services and information.
Q: We can say that our products cover all applications, so with the development of Internet of things, which part will see significant growth in sub-sectors of it?
Interconnect and Electromechanical products are used in all market segments and applications. Being a Interconnect specialist, Heilind addresses all market segments and all customers irrespective of size. We deliberately seek to have a broad product portfolio in order to address all markets. However, we will work closely with suppliers to identify market segments which need more focus and resources.
As a company we are committed to the China market and will make necessary resources available to address the market segments identified.  With IOT reaching out to more and more applications, we at Heilind are watching the trend carefully to ensure we are ready to work with our customers and/or suppliers for any opportunity.
Q: We are specialized in interconnection and electromechanical market, which are different from other distributors. So may there be possibility of expansion in the future? Or you will work to be more specialized and perfect in interconnection and the electromechanical market as always?
For more than 40 years, Heilind Electronics have been a focused Interconnect specialist and have been very successful in North America with this focus. According to a report published by Bishop and Associates, we are the largest distributor of Interconnect products in that region. We have also been awarded the Best Distributor for 6 consecutive years. This success is brought about by Heilind's high value investment in the inventory of these products, and the excellent services it provides. It also reflects the success of strategy to focus on interconnect products.
We intend to keep this focus and will not deal with semiconductors or passive products.
Q: As far as I know, a lot of original factories are ongoing transformation as well, such as Molex, one of your suppliers, Molex is now not only making products but also develop towards providing solutions for customers. It is important for distributors to offer good solutions to customers; also we have a wider range of products and a lot of alternatives, so how we do in this respect?
As a valued channel partner for our suppliers, we formulate and execute our growth strategy in tandem with these suppliers. We have been working closely with our suppliers in setting up geographical footprint, creating service offerings and selecting market segments for more focus. We are also aligning with suppliers who have changed their approach from component to solution based. As a specialized stocking distributor we will continue to focus on supplying interconnect products as a subset of the total solution.
Q: How do we choose the product line? And how we solve the problems of slow-moving inventory?
Heilind has always take pride in representing reputable suppliers and selling high quality products. We will not deviate from this focus when we sign on new franchises which will complement our existing product portfolio. In NA, we have more than 100 franchises and currently we represent less than 50% of these lines in Asia. Since our inception in Asia, we have been adding franchises in Asia which we are already franchised in NA. For new franchises with proven quality, we will work closely with our NA office to ensure we continue to add reputable, high quality suppliers which offer complementary products to our existing portfolio.
As a stocky distributor, we believe in taking risk to build up inventory to better support our customers. We probably have one of the lowest inventory turn ratio in the market today.
Q: Could you talk about how we maintain the relationship with suppliers? What makes you feel the most difficult in these years, and how did you manage?
It was challenging when we first launched Heilind Asia as we were practically unknown to most suppliers and customers. We were also coming into a market crowded with incumbent distributors with long standing relationships with suppliers. However, what we bring is the unique, proven business model used by Heilind NA and our willingness to be flexible and open with our customers and suppliers. Over time, our perseverance pays off and we are today recognized as a creditable channel partner. We have built up excellent relationships with suppliers and will continue to work on enhancing these relationships.
Q: In the increasingly competitive market, where do you think Heilind strengths are?
We envisage to provide differentiated services to that of our competitors. We can summarize our main competitive advantages as follows:-
As a stocking distributor, we carry inventory of depth and breadth resulting in quick turnaround for customers and we also impose no MOQ or MLV restrictions
We do not select market segment or customer type that we will provide our services to. We cover the whole spectrum from a small EMS or harnessing house to a large OEM. We will participate in any market segment as long as a customer wants our services and our suppliers support us.
We participate actively with suppliers on design in of products at the off-shore design facilities of Asia customers. We couple this with a comprehensive process of following through from off-shore design in to fulfillment in Asia.
Being an interconnect specialist, we have a broad portfolio of suppliers and products complemented by staff who are technically equipped to assist our suppliers in providing technical support to customers designing new products.
Our comprehensive range of innovative supply chain management solutions ensure smooth transition for our customers from the product design phase to full manufacturing.
Our value add services allow us to finetune our services to meet customers' specific requirements.
As a company we are flexible to provide differentiated business propositions to achieve a win-win-win situation for suppliers, customers and Heilind.
Q: What about your market strategy in 2017? Or what are our targets? The first quarter is over, how do you think of the completion?
2017 is our 5th year of operations in Asia. We have now gone beyond the initial phase of transition and consolidation. Our focus moving forward will be in following areas:-
Continue to build on our excellent relationships with customers and suppliers
Strengthen our market presence
Move from general branding into more vertical segment promotion
b.Continue to address all market segments and align with suppliers to focus on selected segments
Make use of social medias and web-based tools to promote Heilind brand name
d.Consolidate our geographic footprint by being present in the more remote parts of inner China
Add quality franchises to complement our existing product portfolio
More investments to support our customers and suppliers and meet market demands
Technical resources for business creation
b.Supply chain enhancement
Finally we will continue to drive our business mission of "Distribution As It Should Be" and be the preferred channel partner of choice for both the suppliers we represent and the customers we serve.