May 19, 2014 – Mouser Electronics, Inc. is the first to stock the new MAXREFDES24 Alameda Reference Design from Maxim Integrated. The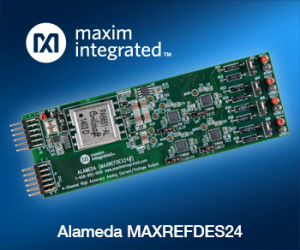 Alameda Reference Design provides programmable and highly‑accurate voltage and current outputs in a compact, galvanically isolated form factor.
The new Maxim MAXREFDES24 Alameda Reference Design, available from Mouser Electronics, is the latest in a series of reference designs from Maxim Integrated. Alameda provides a debugged and ready to go circuit for Programmable Logic Controllers (PLCs) and other industrial applications that require precision voltage and current control.
This reference design is based on the MAX5134, a four-channel high accuracy rail‑to‑rail Digital‑to‑Analog Converter (DAC). These four analog channels are sent to the inputs of four Maxim MAX15500 signal conditioners. These programmable signal conditioners can produce either precision current outputs of up to ±24mA, or voltage outputs of up to ±12V, for each output channel. The outputs of the MAX15500 are protected against overcurrent conditions, ground shorts, or power supply shorts. The MAX15500 also provides an SPI interface for extensive error reporting for these conditions along with brownout detection and overtemperature protection.
Maxim provides all necessary materials for developers to integrate this design into their own system, including full schematics, PCB layout and Gerber files, and PCD CAD files. A 24V power supply is required for testing the Alameda design.
Flexible power‑up options make this design suitable for industrial control systems in harsh environments, as well as PLCs, embedded systems, industrial control and automation, and industrial sensors.
With its broad product line and unsurpassed customer service, Mouser caters to design engineers and buyers by delivering What's Next in advanced technologies. Mouser offers customers 20 global support locations and stocks the world's widest selection of the latest semiconductors and electronic components for the newest design projects. Mouser Electronics' website is updated many times per day and searches more than 10 million products to locate over 4 million orderable part numbers available for easy online purchase.  Mouser.com also houses an industry-first interactive catalog, data sheets, supplier-specific reference designs, application notes, technical design information, and engineering tools.