3D Printing becoming an integral part of Product Design Process
Last few years has seen a revolution in the world of 3D Design & 3D Printing. What was earlier available to specialist niche areas is now available to everybody starting from big to medium to small design/manufacturing house, hobbyists, academia & even home. Increasing number of companies are seeing benefits in using 3D Printing Technology or Rapid Prototyping to create quick turn-around prototypes and save months in the design cycle.
3D printing is a process of making solid objects from a computer-aided-design (CAD) using an additive manufacturing process which involves building up successive layers of materials such as plastic or metals that are laid down in different shapes.
Product Development Process has seen a massive change and makeover across the wide range of industries be it automotive, aerospace, consumer electronics, medical devices etc. Due to the increase competition in the market, product designers today are not only fighting against time to save months in design cycle and reduce time to market, they also have a challenge to continually improve their product design by making it more & more unique to win the market share.

In order to achieve both these objectives there is a demand for a solution which let product designers to test their conceptual designs & prototypes in-house with ease in a minimum amount of time and the solution should affordably support multiple iterations of the prototypes at the same time keeping a check on design cost & design time. Then there is an industry which caters to highly customized products in low volumes. One example of such an industry is medical, making prosthetic devices. Such industry requires a solution which can make highly customized, complex products affordably and quickly.
3D Printing or Additive Manufacturing or Rapid Prototyping is one such solution which is making a serious impact in product development process both in making prototypes for high volume products and making finished products for low volume and highly customized requirements.
The advantages that come with 3D Printing or 3D Printers are ease of use (no need to be an expert to use them), portability (they can sit in a corner of a lab offering in-house facility), affordability (there are many low cost printers available in the market today), ability to make complex design/shapes (something which is not possible with injection moulding or subtractive prototyping) etc.
One such 3D Printing solution which fits to the definition above and ease out the product development process is the Cube X 3D Printers from 3D Systems available with RS Components at very attractive offers and commercial benefits.
Cube X 3D Printers – Print Big, Professional Grade Parts Fast!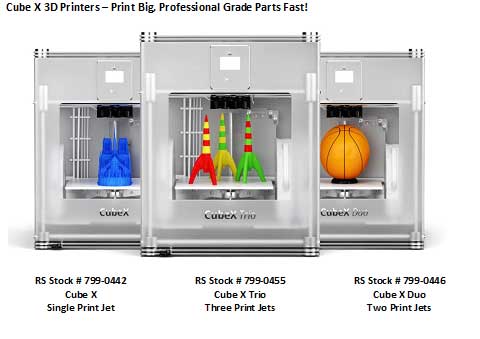 Designed for serious Electronic Enthusiasts, Entrepreneurs, Professional Product Designers the Cube X 3D Printers are professional 3D Printers offering the best in class build volume (You can print a full size basketball using this printer). Whether you are printing gadgets, prototypes, architecture models, math geometries or toy robots, the CubeX provides the ultimate professional grade 3D printing experience.
Very easy to set-up, Cube X 3D Printer is supplied with Cubify Invent Design Software, that convert 3D Model (any standard STL file) into printable form for Cube X Printer. There are 10 Sample Prints included with the printer along with one cartridge/print jet. Cube X offers hassle-free printing with touchscreen interface, USB print capability, cloud print service and live hotline support. There are three print modes available in Cube X for Print Accuracy and Fill Density. Print Accuracy options are high-def (125 Micron), Crisp-def (250 Micron) and Standard-def (500 Micron) and similarly Fill Density Options are Lite, Medium & Solid. In Cube X Printer Support Material can be used while printing which can be removed once the printing is done. Support material may be required when printing parts with overhangs greater than 50°. There are three variants of Cube X Printer available with RS Components – Cube X (Single Jet, or Single Color printing), Cube X Duo (Two Jets, or Dual Color) & Cube X Trio (Three Jets, or Tri Color). Cube X Trio has the highest range of print options available in any Desktop 3D Printers.
All three variants have common key features/specifications which are as follows:


About RS Components
RS Components is a high service distributor of electronics and maintenance products. We offer around 500,000 products, sourced from 2,500 leading suppliers, include electronics, automation and control, test and measurement, electrical and mechanical components.
For more information, please visit the website at www.rsindia.com
Reach out to us at – techmarketing@rs-components.co.in
RS Components & Controls (I) Ltd                               
B-74 Sec 60, Noida 201301.
Tollfree: 1800 180 7746, Tel: + 91- 120- 4519100, fax: +91-120- 4519198/199