Mhindra – the Indian marque has rolled out a cool looking electric sports car concept called the Halo, at the 2014 Delhi Auto Expo earlier this week. First thing you notice is the styling. Thanks to the input from Pininfarina and Bertone design firms, the car looks very sleek and well proportioned. The sporty alloy wheels, 'double bubble' roof, and sloping roof scream of sports car heritage. The interior is as classy as the exterior with nice layout and large multimedia display screen, just like what you would find in Italian sports cars.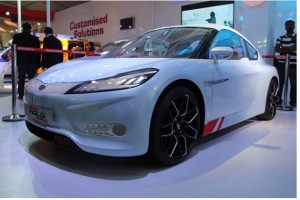 Early last year it unveiled its newest version of the Reva brand, a smart-looking small sedan called the e2o, which has a range of about 100km and sells in India for about 670,000 rupees (about $12,000).
At this week's Auto Expo it is showing a variation on the e2o theme: a concept for an electric two-seater sports car called the Halo which may go into production in about three years.
Last November, Mahindra also agreed to take part in the global Formula E electric racing car series scheduled to begin in China in September this year.
Mahindra is the only Indian maker in the FIA-sponsored series, which initially will see 10 teams, each with two cars, competing in 10 races around the world in Putrajaya (Malaysia), London, Berlin, Los Angeles, Miami, Rio de Janeiro, Beijing, Monte Carlo, Buenos Aires and Punta del Estes in Uruguay.
The Halo is powered by a 140hp electric motor, which enables the compact sports coupe to do the 0-100km/h sprint in less than eight seconds. Top speed is rated at 160km/h, while the claimed driving range is 200km.
Mahindra says if all things fall into place as planned the new electric two-seater Halo could go into production by next year. For the record, the Mahindra Reva division is also a competitor in the Formula E Championship. Therefore we can see the Indian carmaker is serious about its electric car technology.