Now Released and Growing in Features
Full browser-based CAD solution to read, create and annotate DWG drawings in the Cloud by Graebert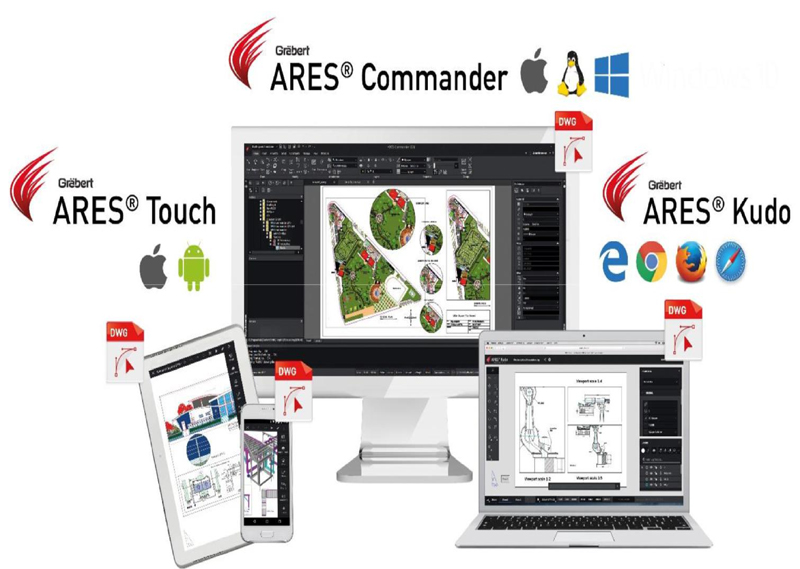 7th November, 2017, Delhi, India– Graebert™ GmbH www.graebert.com – the pioneer in developing high-performance CAD solutions across desktop, mobile and cloud, revealed today the latest state of ARES® Kudo™, its full browser-based DWG editor.
The concept of ARES Kudo was introduced by Robert Graebert, CTO of Graebert, at Graebert's Annual Meeting four years ago, in Fall 2013. Graebert's cloud-based CAD solution was first renowned for its collaboration with Onshape®, the first full-cloud 3D MCAD solution whose 2D module Onshape Drawing, released in September 2015, is in fact a custom version of ARES Kudo. Twelve months ago, Graebert announced the phased rollout of the first version of ARES Kudo for its subscribers as part of a unique concept: The "Trinity of CAD".
For Graebert's end-users, ARES Kudo is indeed fully interconnected with its other CAD platforms for desktop (ARES Commander for Windows®, MacOS® or Linux®) and mobile (ARES Touch for Android® and iOS®). The three solutions are bundled into a unique subscription allowing users to take advantage of each platform with similar features but different use cases. ARES Kudo and ARES Touch are therefore coming at no additional cost for the subscribers of ARES Commander.
ARES Kudo is also offered to developers as a Cloud-based platform for DWG-viewing and editing. Besides its extensive set of ready-to-use DWG editing commands, ARES Kudo offers an easy path for developers willing to migrate their Windows-based applications to the Cloud. ARES Kudo's programming interface supports indeed programming languages that are widely used by the developers of CAD applications such as C++ or Lisp.
Instead of introducing another cloud storage service, ARES Kudo offers the opportunity to become the "hub" for all DWG drawings. Users are invited to connect their existing cloud-storages (which includes the most popular solutions such as Box®, Dropbox® or Google® Drive) but also to vertical, industry-specific solutions. Users may for example access drawings stored on the servers of Onshape® or Trimble® Connect. With ARES Kudo you can connect several of these cloud storages and search for DWG files in all of them simultaneously, before opening the file for viewing and editing purposes.
Graebert further explained how ARES Kudo is empowering ARES Commander and ARES Touch with the agility of the Cloud:
The "Hub" for all DWG files in the Cloud:
Use ARES Kudo to connect multiple third-party cloud storages and browse or search for your files from a central place
Access DWG drawings on any device via a simple Internet browser:
ARES Kudo avoids all the hassles of installs and updates. Users can login from kudo.graebert.com and instantly access all their drawings.
Continuity of a project across devices and users:
The integration of ARES Kudo with ARES Commander and ARES Touch helps to synchronize the files from one device to the others and across all the users collaborating around a project.
Improved collaboration and workflows:
Projects can be shared as a simple URL. This includes also the ability to share a view-only link with external users. View-only links represent a disruptive and very easy method to share drawings. Such a URL allows the owner of a drawing to let other people see the drawing online. Being updated instantly when modifications are saved they avoid any risk of outdated information and represent the single source of truth of the project.
ARES Kudo is aiming at making no compromises in features. Most of the features available in ARES Commander for 2D are already migrated. ARES Kudo will soon support the ability to read other file formats such as Bentley® MicroStation®'s *.dgn files or Autodesk® Revit®'s *.rvt files. Besides editing DWG files, ARES Kudo has therefore the ambition to be the viewer and hub for all the files of a project.
Graebert is also actively building ties with other communities of users. The integration with Onshape and Trimble Connect is aiming at strengthening the competitive advantages of the ARES Trinity of CAD software among these two communities of users and Graebert will look forward building more similar integrations.
Users in India can contact Graebert India at +918527569991 to sign up for ARES Kudo trials.
Wilfried Graebert, CEO of Graebert commented "The phased roll-out of ARES Kudo's viewing and sharing features is showing satisfaction. Only a few countries in Asia are left on our rollout plan. We expect now to accelerate the deployment and start enabling the editing features to any of our subscribers willing to try them. A chat system inside ARES Kudo can be used by subscribers to interact with us and ask for the editing features. Non-subscribers will
also soon have the possibility to try ARES Kudo, either by activating a trial of ARES Commander 2018 or by visiting https://kudo.graebert.com where a Trial button will be added in the coming days."