The one day Embedded Vision Summit shows developers how to make their systems smarter with cameras, DSP and other sensors.

Computer Vision for Next-Generation Products

The event for software and hardware developers who want to incorporate visual intelligence into their products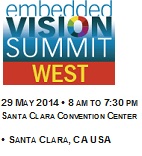 The Embedded Vision Summit provides a unique opportunity to learn about the hottest topic in the electronics industry today: the computer vision technologies that enable the creation of systems and applications that "see and understand."
This highly rated event helps attendees find new ways to create better products, and empowers them with practical insights and know-how related to the use of computer vision.  The Summit includes:
Conference tracks featuring "how-to" presentations on applications, algorithms, processors, sensors, tools and techniques for practical computer vision
Keynote talks by industry luminaries from Facebook and Google
Technology Showcase with over 30 demonstrations of the latest vision processors, tools and applications
Opportunities to connect with experts from leading vision suppliers and with other product innovators using embedded vision technology
Program Highlights
Facebook: Morning Keynote by Artificial Intelligence Lab Director, Yann LeCun
Yann is Director of AI Research at Facebook. He is also Silver Professor of Data Science, Computer Science, Neural Science, and Electrical Engineering at New York University, affiliated with the NYU Center for Data Science, the Courant Institute of Mathematical Science, the Center for Neural Science, and the Electrical and Computer Engineering Department.
Google: Afternoon Keynote by Self-Driving Car Tech Lead, Nathaniel Fairfield
Nathaniel is a technical lead on Google's self-driving car team. He works on special projects, and led the engineering effort behind the "Self Driving Car Test: Steve Mahan" video popular on YouTube.
New Technologies Showcase
See dozens of embedded vision technology demos in the Summit Technology Showcase.
Embedded Vision Workshops
On Wednesday, May 28, the Alliance will hold in-depth tutorial workshops on designing systems and software that incorporate computer vision. These workshops are an excellent launching pad for application and system developers interested in gaining deeper knowledge of technologies and techniques for practical computer vision.
Taught by computer and embedded vision experts from Alliance member companies, Summit Workshops explore exciting and informative topics, ranging from embedded vision algorithms to software implementation and hardware acceleration. See here for more information about the Summit Workshops.
Co-Located with the Augmented World Expo
This year's Summit is co-located with the Augmented World Expo (AWE). AWE is the world's largest event featuring Augmented Reality, Wearable Computing, and the Internet of Things.
Special discounts for AWE are available for Summit attendees.