Measure battery voltage, resistance, capacitance, reactance and more using a 1 kHz stimulus signal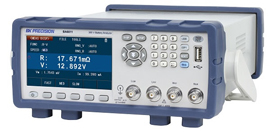 YORBA LINDA, CA, November 10, 2017 — B&K Precision, a leading designer and manufacturer of reliable, cost-effective test and measurement instruments, today announced the addition of two new battery analyzers, models BA6010 and BA6011.
Both battery analyzers measure voltage and resistance of modern battery technologies with high accuracy, resolution, and speed. Additionally, these instruments provide auxiliary measurement parameters inductance, capacitance, dissipation factor, impedance, quality factor, reactance, and phase angle in degrees and radians.
The BA6010 Series is suitable for characterizing battery chemistries that are responsive to a 1 kHz AC stimulus signal including lead acid, lithium and alkaline type batteries used in consumer products, electric vehicles, power backup, security, and fire alarm systems. Model BA6011 supports voltage measurements of battery packs up to 300 V whereas the BA6010 measurements up to 60 V and features a 6 V measurement range ideal for battery cell testing.

Key Features of the new BA6010 Series
4.3 inch color LCD display
Trace function for graphical display of voltage and resistance with on-screen cursor measurements
4-wire kelvin test leads with fault monitoring of drive and sense lines
Compare and sort using 9 bins with statistical evaluations
Δ% mode for quickly determining the percent difference between batteries
Pass/Fail indicator with audible tone
Fast test speed up to 50 measurements per second to increase manufacturing throughput
Trigger modes: internal, manual, bus and external
Handler interface for easy integration with a component handler or system integration
Standard RS232, USB (USBTMC and virtual COM) interfaces