3U, 19" Rack-Mounted Power Supply Delivers Clean and Stable DC Power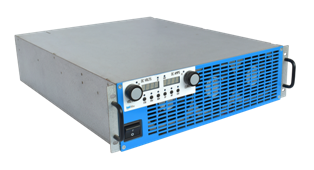 Bel Power Solutions and Protection, a Bel group
company (NASDAQ: BELFA and BELFB) and premier global manufacturer of powermanagement devices, announces the TSR10, a robust, high power 10 kW, DC programmablelaboratory power supply. The TSR10 is a 3U, 19" rack mounted precision power supplywhich delivers clean and stable DC power, with operation allowed on any load from short- to
open-circuit and constant voltage / constant current auto crossover. Easy to use, theTSR10 is ideal for testing in laboratories and for general industrial purposes, includingresearch, component device testing, automated systems, aerospace and satellite testing.
The TSR10 has a 3-phase input voltage of 360 – 440 VAC power supply with adjustable
DC output voltage between 0.5 V and 50 V, and output current between 0.5 A and 200 A.
The front panel display contains settings for monitoring output voltage and current, including
adjustable overvoltage, adjustable overcurrent, short circuit and feedback voltage proof,
overtemperature (OTP), safe/auto start, front panel lock and phase loss detection.
TSR10 communications include the CAN Interface and analog programming/monitoring
(0-5 V or 0-10 V user-selectable), auto restart after power cut, mains, output voltage and
current indication, front panel lock (selectable from the front panel) and/or from the software,
independent remote ON/OFF and remote enable/disable, continuous encoders for voltage
and current adjustment (coarse and fine mode), last setting memory and remote reset.
The TSR10 is currently in stock with Mouser. For more detailed information, visit the
TSR10 product page here or download the datasheet.
For technical inquiries, send an eMail to Tech.Support@psbel.com, call +1 866-513-2839
for North America and +49 6172 95520 for EMEA or visit belfuse.com/power-solutions.