>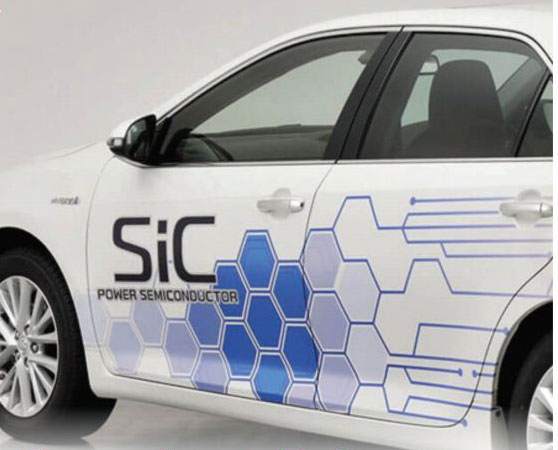 Cars and chips. Less than a decade ago this would not have been the most obvious of pairings, but this will be a key driver of our industry today. From self-parking cars to anticipatory braking, semiconductors have been important to automotive innovations in the past decade. As a result, automotive semiconductor revenue is growing at nearly twice the rate of the overall semiconductor market.
Power electronics is an area of great importance. It has been developing at a considerable rate and things which only a short time ago were not thought possible and now become achievable. Power semiconductor manufacturers have been busy innovating and the result is many new standards, technologies and products. Probably the strongest technology trend this year has been the rapid increase in availability of wide bandgap semiconductor products – those based on silicon carbide (SiC) and gallium nitride (GaN) materials. Switches made from these materials can operate at higher switching frequencies than traditional silicon power transistors; replacing silicon MOSFETs with SiC ones in a switching power supply means it can switch three times as fast, or faster. They can also withstand higher voltages and temperatures, and can vastly reduce energy losses. In a world Automotive to Fuel Power Semiconductors Growth COVER ST RY Cars and chips. Less than a decade ago this would not have been the most obvious of pairings, but this will be a key driver of our industry today. From self-parking cars to anticipatory braking, semiconductors have been important to automotive innovations in the past decade. As a result, automotive semiconductor revenue is growing at nearly twice the rate of the overall semiconductor market. Deepak Gupta where almost every application is looking to improve energy efficiency, this is a particularly desirable quality. This year, wide bandgap technologies have progressed from their very first power FET introductions in the recent past, to the demonstration of wide bandgap products in real world applications. SiC in particular has had a great year with numerous product introductions at the various power exhibitions around the world.
5G, Emerging Applications Promise Bright Future for GaN/SiC Power Semiconductors
Built on the foundation of 4G services and emerging applications' demand for connectivity of lower latency and faster transmission, 5G connectivity technologies are rapidly evolving amid high expectations among vendors around the world. With the 5G standards nearing ratification in 2018, semiconductor companies, network communications equipment makers and other related vendors are getting a better grasp of 5G architecture. Advancements in 5G technologies are bringing both new opportunities and technical challenges for the semiconductor sector. One of them is that while 5G services sometimes use higher frequencies to enable faster transmission and ultra-low latency, such use of higher frequencies cannot increase the power consumption of base stations or mobile devices. Therefore, high-performance power and compound semiconductors like GaN, SiC and GaAs are not only playing a key role in the development process of 5G-related end products, they are also expecting huge growth opportunities as their development will definitely benefit from the launch of 5G services. For example, RF and sour power components are indispensable in mobile devices and base stations. To satisfy the needs for lower power consumption, smaller form factors and better performance, RF power amplifiers based on GaAs, GaN and SiC technologies have started emerging since the dawn of 4G networks. With constant evolution of 5G technologies, GaN is expected to become mainstream in the market for its better power performance. We all know that GaN and GaAs power semiconductors have more advantages than traditional Si-based ones, such as faster switching speed, lower electrical current loss and higher power density. They also far exceed silicon power semiconductors in many other features. The only problem is that its cost is still significantly higher than Si-based devices. But as materials, manufacturing equipment and technology providers have started working together to solve the problem, we are expecting more advancements in the manufacturing process of GaN and GaAs compound semiconductors.
Power Semiconductors Market Growth and Key Trends
According to the market watchers, global power semiconductor revenues increased by 3.9% in 2016, reversing a 4.8% decline in the previous year. IHS Markit divides the market into three categories – discretes, modules, and integrated circuits. Of these three, discretes showed the biggest jump. Particularly strong was the development in the automotive and industrial segments – automotive customers bought 7.0% more power semiconductor than in the previous year. Here, Advanced Driver Assistance Systems (ADAS) fared extremely well as a result of the "democratizing" trend for such features – carmakers tend to equip mid-level vehicles with such features whereas they previously were reserved for the luxury class. This trend leads to much higher unit sales. Likewise, the hybridization of the powertrain left traces in the sales figures: The market researchers observed sharp gains for power modules and power discretes as the number of vehicles equipped with inverter systems for hybrid (including micro hybrid) powertrains increased. A typical feature of such powertrains are advanced stop/start capabilities which requires extensive use of power semiconductors. Power modules for cars and light trucks for this reason made a jump of 29.3 % in 2016. With a growth of 5.0%, also the industrial segment was about average. In the broad industrial sector, the drive for energy efficiency improvement led to growth in renewable energy (solar and wind inverters), building and home control, and factory automation applications. Revenues from home appliances COVER ST RY in the consumer segment also grew nicely as advanced motor control systems found their way into white goods, fans, kitchen, and cleaning products. Despite good gains, other categories were flat to down. Power module sales for industrial motor drives, a large subsegment, slid 1.1 % and modules for traction applications were down 17.5 % for the year. Power ICs for consumer application declined 4.9 % while power discretes for lighting applications were off 2.7 %.
Purnachandar Poshala, Analog Applications Manager, Member Group Technical Staff, TI India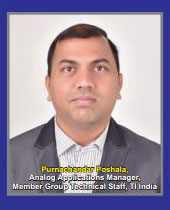 Market@ The semiconductor market in India has registered a growth as compared to last year. Power semiconductors will be key drivers of this growth. In India, the growth of power semiconductors will be led by sectors such as industrial, telecom/ communications, defence and space. According to the India Electronics & Semiconductor Association, the Indian Electronic System Design and Manufacturing (ESDM) market will grow from US$ 76 billion in 2013 to US$ 400 billion by 2020. The automotive market will also contribute significantly in the coming years as India aims to become a 100% electric vehicle (e-vehicle) nation by 2030. The government has commissioned the purchase of EV vehicles and is also working towards setting up the supporting infrastructure which includes charging stations, battery management etc. Few companies will be manufacturing Li-Ion batteries in India for this auto market. FAME India – Faster Adoption and Manufacturing of Hybrid and Electric vehicles in India – is a part of the National Electric Mobility Mission Plan. Electric two wheelers, three wheelers, hybrid electric cars, electric bus etc. are applications for power semiconductors in this sector. Also there are multiple applications for semiconductors within the vehicle such as infotainment, Reverse Parking sensors, USB chargers, Body lightning and gas sensors etc. The other key applications for Power semiconductors include Internet of Things (IoT) based sensors, Power Banks, Electric Point of Sales (EPOS) and Industrial terminals, hand held meters, Vehicle tracking systems, Wearables, Telecom Ethernet Switches and Routers and Radar sub systems etc. Every application needs different type of power products and feature sets.TI has power solutions covering all the above applications.
Key Trends@ The major trends in power semiconductors are optimizing these products for specific end applications. The key trends include smaller size, higher efficiency, faster switching speed, integration and most importantly lower cost. Semiconductor companies needs to continuously innovate in product development, process technologies, design techniques and packaging techniques to satisfy customer application demands. Another key trend is to provide reference designs and design tools. TI has more than 2000 TI DESIGNs on TI.com for many industrial sub systems like Factory automation and control; medical, healthcare and fitness; building automation, grid infrastructure; and test and measurement to help customers reduce their design cycle. TI WEBENCH power designer tool helps customers quick start their power architecture designs. It's interesting to see how these new, emerging demands from ICs play out in real life applications. For instance, Wearables like Activity monitors, smart watch need Smallest Solution Size and Lowest Power Consumption for power ICs used in these products. TI BQ25100 is the industry's smallest size LiIon 250mA battery charger with 75nA quiescent current in 0.9mm x 1.6mm WCSP package which is thinner than passives.Most wearable applications use 300mAH or smaller cells. Battery run time remains a major issue with wearable devices and one of the top concerns of all portable product users. BQ25100 smaller size, low Iq, higher integrated features helps these products run for a longer time. Another example is of applications like HVAC Thermostats, Video doorbells which needs wide input power converters up to 60V. TI LM5160 COVER ST RY Purnachandar Poshala, Analog Applications Manager, Member Group Technical Staff, TI India Purnachandar Poshala, Analog Applications Manager, Member Group Technical Staff, TI India buck converter has up to 60V input for improved transient protection, has higher efficiency with small solution size 4 x 4 and lower cost.
TI Innovations@ Innovation is part of TI's DNA and it helps us retain our competitive edge, and meet the needs of our customers. Breakthrough technologies in our products offer customers with smaller size, lower power, and integrated power products with enhanced features. We've also made several innovations to reduce the cost of the power products like Buck, Boost converters and linear regulators etc. which helps our customers remain competitive. Our global manufacturing operation is at the core of our ability to deliver innovative technology to our customers. TI also developed GaN (Gallium Nitride) power stages and the LMG3410 is 600V, 12A single chip GAN Power stage The LMG3410 70mohm, 600V GAN FET power stage is the first high voltage driver integrated GaN Solution, which received the PRODUCT OF THE YEAR award from electronic products 2016.GaN has maximum power density which delivers half the power losses and enables a reduction in power supply size to almost 50%. The integration of the driver and FET in a single QFN package allows decrease in power loss and EMI interference. Key applications include server/telecom POL and AC-DC Supplies, Motor drives, solar inverters and rack mount DC power distribution systems. This product is available online at http://www.ti.com/product/LMG 3410 One of the new package innovations for switching regulators is HotRod package. For example LMS3655-Q1, 5.5A, 36V Synchronous step down converter is designed with a flip chip or HotRod technology, which greatly reduces the parasitic inductance of the pins. The layout of the device allows for partial cancellation of the current generated magnetic fields which reduces the radiated noise generated by the switching action and as a result the switch node waveform exhibits less overshoot and ringing in Buck converter application. TIeFuse (Electronic Fuse) TPS2660x designed for industrial applications for Hot Plug In and Inrush current control where it can work upto60V max, has integrated features like input reverse polarity protection, integrated back to back MOSFET for reverse current blocking, programming output slew rate, accurate current limit, programming Under voltage lock out, over voltage protection and circuit breaker with Latch (TPS26601) combines multiple features and helps in applications like PLCs, sensors and control systems etc.
Fionn Sheerin, Senior Product Marketing Engineer, Analog and Interface Products Division, Microchip Technology Inc.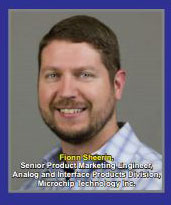 Market@ Generally speaking, the total market revenues for power semiconductor are still dominated by computing, server and datacom applications. Those applications have been mostly flat over the last few years, with up quarters offset by down quarters, and the associated semiconductor revenue is moving with the end markets for those products. Portable and wearable consumer electronics, on the other hand, have been growth markets, but unfortunately those have not driven significant overall revenue for power electronics. The power devices required for those applications tend to be very small and relatively low average selling price, tailored for lowpower devices with long battery lifetimes. The major growth segment for power semiconductors today is automotive. Advances in phone charging, head units and engine control modules all require additional power to perform the additional functions. LED lighting (interior and exterior) requires more power semiconductors, as do Automated Driving Assistance Systems (ADAS) and electric motors (particularly with the increasing use of brushless DC motors). All of the added electrification and intelligence going into vehicles has added new power requirements, and that is the largest growth segment for power semiconductors today.
Key Trends@ Besides the general trends in automotive, there are COVER ST RY Fionn Sheerin, Senior Product Marketing Engineer, Analog and Interface Products Division, Microchip Technology Inc. Fionn Sheerin, Senior Product Marketing Engineer, Analog and Interface Products Division, Microchip Technology Inc. two major initiatives in power semiconductors:
1) 48 volt point of load conversion, and 2) wide bandgap materials. 48 volt systems dramatically reduce the power requirements on 12 volt power rails. They also increase the need for higher voltage conversions at large step down ratios, delivering high currents at low output voltages starting from the 48 volt input. This is a major architecture change in servers, which might also facilitate other segments (consumer, industrial, and automotive) to move to higher voltage bus systems for similar efficiency gains. The other initiative is pressure for the adoption of wide-bandgap materials, such as Gallium Nitride (GaN) and Silicon Carbide (SiC). These materials have control, drive and frequency, and sometimes even topology, needs that differ from prior generation silicon. However, despite the advantages, both of these initiatives are still in their relative infancy. Traditional 12 volt power systems are still the dominant force in the market today as are silicon trench MOSFETs in most power systems.
Microchip Innovations@ Microchip has many products that support both industry standard needs and emerging power needs. Digital power control, high speed driver chips and specialized high voltage interface devices all play a role in development of new and growing applications. Microchip's dsPIC-based Digital Signal Controllers (DSCs) are a benchmark in high performance digital power control. In addition, newer 8-bit PIC microcontrollers with integrated analog control loops offer digital monitoring functions that provide another level of capability not present in most traditional power controllers. These digital controllers provide the flexibility to develop new architectures for emerging 48 volt point of load or wide bandgap requirements without waiting on new solutions to catch up to the rest of the application. Similarly, Microchip has a variety of analog driver chips capable of interfacing digital control components to highspeed applications. These range from next generation low side MOSFET drivers—with the speed to keep up with GaN materials—to high voltage amplifier arrays capable of driving Micro-ElectroMechanical Systems (MEMS)-based mirrors for optical steering in Light Detection And Ranging (LIDAR) and other imaging systems.