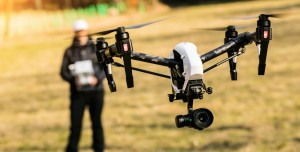 The use of drones is sweeping the landscaping industry. With their many capabilities, farmers and other industries are already utilizing drones to help make their work more efficient. But those who work in landscaping design and construction may be the next big drone users.
Drones are capable of photography, videography, and project area scouting, which can all be immensely beneficial for landscape and construction projects.
Unmanned aerial vehicles (UAVs) are small, roto-equipped robots that can be operated from the ground to provide aerial views to the operator. With their lightweight and durable build, they can fly for almost an hour on a single charge.
Recently, more landscaping businesses have begun to utilize drones. Drones can play an important role in project presentation and promotion. Additionally, the use of drones can allow the operator to see an entire area within one continuous moving image.
The FAA announced new rules this past August which gave the opportunity for low-level, small drones to be used for education, research, and routine commercial use.
Scott Cohen, owner and founder of The Green Scene Landscaping and Pools, has found drones to be a useful way of creating photographs and videos.
"We have a saying here that the 'next job always comes from the last job,' and photos have a lot to do with that," Cohen said. "With a drone, you can get views that aren't possible with a regular camera. For example, you can fly a drone off the edge of a cliff and get an incredible shot of a vanishing edge pool."
With 67% respondents in a recent Harris Poll survey saying that professional landscaping would provide them with a nicer yard, landscape artists are always looking for new ways to make their projects easier and more successful.
One of the most-used features of modern drones in landscaping or construction is their ability to use route-planning software. This software is extremely accurate and fully customizable.
Additionally, any information captured by a drone is backed up in the cloud. This means users can easily access and process mass amounts of data related to various projects.
While drones have proven to be extremely useful, there are many rules and regulations that need to be followed. After registering a drone with the FAA, it's important that drone users continue to follow drone regulations in order to avoid fines or injuring someone.
Additionally, there are more severe rules, like the requirement that drone users must contact an airport and control tower prior to flying within five miles of said airport. If these rules are not followed, there could be vast consequences.
Although the number of landscape companies using drones to assist with projects is very small right now, there is a point of growing interest in the industries.