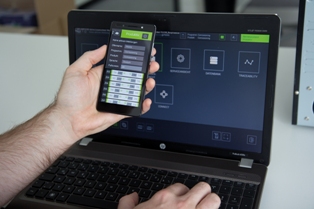 Altus has returned from the SMT Hybrid & Packaging show, Nuremberg, where the team has reported growing interest in the SMART factory solutions which were presented by many exhibitors at the show.
One company exhibiting the latest technology to support Industry 4.0 was Rehm Thermal Systems, with the ViCI virtual communication interface for the ViCON system software. The technology was demonstrated for the first time during the show and caught the interest of Altus' customers.
Joe Booth, sales manager at Altus said: "Altus attended the SMT Hybrid & Packaging show to support our customers and introduce them to our principles' latest innovations. The new Rehm software was one new addition that got people talking.
"As the SMART factory model is becoming more important, our customers are looking to transform their manufacturing facilities and install systems to manage and monitor multiple production lines to make them more efficient. When we introduced Rehm's latest innovations during the show we were pleased to see so much interest and this has continued since returning from the show, with further information being shared."
The requirement to provide corresponding data for digitalised processes within the field of reflow soldering systems, is important in production today. With the introduction of the new ViCON system software, Rehm has created optimal conditions for ever more advanced networking between the systems. The ViCON Connect software tool, which controls and monitors all Rehm systems within a company network, and the ViCON app for mobile access to all relevant system information is helping in the move to the SMART factory process.
The ViCI virtual communication interface provides data glasses, guided maintenance scenarios on tablet or smartphone as well as a comprehensive and expandable knowledge database. A portal can be used to retrieve asset-related content and to upload own content. The portal solution also enables the individual extension and integration of other systems as well as a corresponding client administration with individual access rights.
For further information visit www.altusgroup.co.uk