Japanese electronic components manufacturer Alps Electric Co., Ltd. (TOKYO: 6770; President: Toshihiro Kuriyama; Head Office: Tokyo) will open a booth at CES 2018 to introduce its latest technology. CES 2018 opens at the Las Vegas Convention and World Trade Center in Las Vegas, Nevada, in the United States on January 9, 2018. At CES 2018, an exposition of cutting-edge technologies brought together from around the world, Alps Electric will introduce core technologies and solutions in areas expected to gain prominence in the near future—autonomous driving, augmented reality applications and the Internet of Things (IoT).
Exhibit Highlights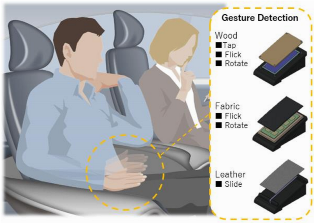 1. Capacitive Input Device for Automotive Use For autonomous cars of the future, Alps Electric is putting forward an input device based on capacitive technology that enables gesture and touch input and control of systems around the driver. The device contributes to a comfortable user experience by allowing accurate input, such as selection of menu options, without actually making direct contact with the touch panel. This is achieved using a highly sensitive capacitive sensor, an Alpsdeveloped algorithm and original ASIC design. The Alps booth will present examples of solutions integrating the device with natural materials such as leather and wood, taking advantage of its excellent sensitivity and accuracy. Visitors to the booth will be able to operate them.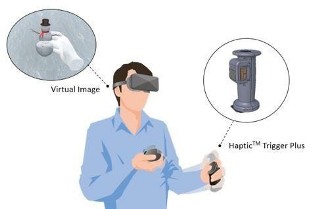 2. HAPTIC™ Trigger Plus Alps Electric's force feedback technology is applied in the HAPTIC™ Trigger Plus, a controller that realistically recreates the feel of objects. Besides recreating pressure, vibrations and thermal sensations, HAPTIC™ Trigger Plus includes a feature that senses finger movements using a capacitive sensor, providing for a much more immersive virtual reality control experience. Visitors to the Alps Electric booth can try the demonstration, which recreates a variety of haptic sensations using items like a stainless steel cup, a snowman or a puppy. When you are at CES 2018, please stop by the Alps Electric booth. Outline of the Exhibition Exhibition: CES 2018 Dates: January 9-12, 2018 Venue: Las Vegas Convention and World Trade Center Booth location: North Hall Meeting Room N103 Exhibits • Capacitive Input Device for Automotive Use • HAPTIC™ Trigger Plus • Thin Touch Input Module • IoT Sensor Network Module • IoT for Sports Technology • VR Grip™ Platform* • GlidePoint® Circle Trackpads* and more… *Technologies of Alps Electric group company Cirque Corporation (Salt Lake City, USA).