Smartest watch ever made
Release date: 2014
The Agent watch is the newcomer in the connected device battle. Developed by Secret Lab & House of Horology, it brings to the game the first two-processor smartwatch and wireless charging. It has been funded through a  kickstarter campaign which raised more than 1 million dollar in a month, between May and June 2013.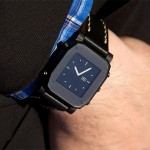 The developers of the Agent smartwatch wanted to create a smartwatch which is both powerfull and with long lasting regarding batteries. (If you are a returning reader of smartwatchiz, you know how obsessed we are with battery life). They came up with the idea to use a low energy consuming processor to perform most of the tasks, and relying on a second more powerful one running less than 20% of the time for the advanced use. In a world were people are always complaining about their smart phones' battery, it is an opportunistic strategy.
Advertisement

The Agent watch includes the complete range of notifications and pushes your messages to your wrist screen. It features also a music controller and we believe we can expect much more to come until December.
The screen used is the cutting edge sharp Memory Display that is considered to bring the best of both a traditional LCD and e-ink black and white.
To which smart phone can I connect my Agent smartwatch?
It connects to Android, iOS and Windows devices through bluetooth 4.0.
Developer's dream come true?
As the Secret Lab guys come from the open source world, they chose to ease developers's life enabling C# and Microsoft Visual studio to write apps. So we might see soon a lot of widgets and add-on coming from the open-source community.
Retail price: $249 (pre order now for $129)