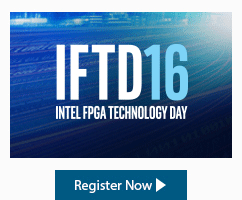 At the Intel FPGA Technology Day (IFTD), we are assembling an array of industry experts for a day-long series of presentations, demonstrations, and rich interactive sessions. You'll learn about technology-leading FPGAs, tools and intellectual property (IP), and the latest developments in multiple hot application areas, such as industrial Internet of Thing (IoT), communication and military.
Highlights of the presentations include:

Stratix® 10 FPGAs and SoCs and now SiPs: Discover more about flagship and technology-leading FPGA. You will learn and see live demos of this high-end FPGA family technology including 56 Gbps transceivers.
SoC FPGA Technology: Learn more about the value of FPGAs with onboard processors. With the integration of applications processors, modern FPGAs are really SoC FPGAs.
Power: FPGAs offer incredible flexibility and capability, but face a growing challenge: how do you design the FPGA power supply to maximize system performance? Learn how to get the most from your FPGA using Enpirion® Power Solutions.
Industrial IoT: Learn how FPGAs can help IoT systems designers reach their goals. The use of FPGAs for Industrial IoT solutions will allow for more cost effective, efficient, and secure autonomous communication that bridges cloud and data center operations with the "things" of the Industrial world.
Quartus® Software: Learn more about FPGA design tools and the revolutionary Quartus Prime design software that enables you to design with Altera® FPGAs, SoCs, and CPLDs
SINGAPORE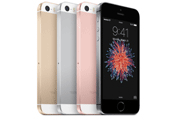 Date and Time: Thursday, August 25, 2016, from 8:30am – 5:30pm
Meeting Detail: Meeting agenda / Meeting topics
Register now and secure your seat! altera.com/IFTD
Stand a chance to win an iPhone*
HYDERABAD
Hyderabad: Thursday, September 1, 2016, from 9:00 am – 5:30 pm
Register now and secure your seat! altera.com/IFTD
Stand a chance to win an iPhone*
*Qualified registrants will receive a final confirmation to attend the Technology Day event and get a chance to enter a lucky draw. Please bring your confirmation letter with confirmation code and your business card on the day of the event.